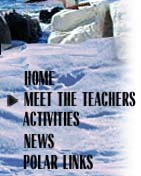 12 November, 2003
Hello from Christchurch, NZ.
It seems like to took forever, but I have finally arrived here at the U.S. Antarctic Center in New Zealand. The Raytheon folks were here to greet us as we came off the airplane from Aukland, we gathered up our luggage and got our briefing that covered the next two days that we will spend here in Christchurch. While here, we will get our ECW (Extreme Cold Weather gear) and final instructions for our trip out to the "Ice" or actually, McMurdo Station, Antarctica.
As odd as it may seem, we flew three legs of our journey together but it was not until we arrived at the B&B here in Christchurch, that I met my roommate Nate Smith. Nate, is the graduate student working with Dr. Hammer and is doing his thesis on the Cryolophosaurus. We will be working together to remove more of the dinosaur, and the other fossil evidence found with it. But first things first, we both needed to remove the grime of the 24+ hour journey off our bodies and try tofeel human again (Or at least not have people crinkle their noses at us!). So hot showers were the order of the day! It is somewhat amazing but neither of us feel any jet lag as yet. It may be because we slept almost all the way here so our internal clocks have been reset or maybe it is because we are both so excited to be here since it is the first time either of us has been to Antarctica. After the showers, it was off to the phones to let our families know we are safe and sound in this most beautiful part of the world. The real treat was to call home from tomorrow. My wife answered the phone at home on the East coast of the US. It was Tuesday, November 11, at 6:20pm there. I was calling her at 12:20 pm in the afternoon of Wednesday the 12th of November here. That completed, I then journeyed over to the U.S. Antarctic Center at the Christchurch Airport where I am writing this journal entry. I have attached some pictures of "DINO" the mascot that my sister's Kindergarten class sent along with me. Dino should help the children put what I see and record in perspective. It is something they know and can relate to, that will be in pictures of a land that they know little about..
Well that's all for now, I will be updating tomorrow after we get our gear and I recharge the batteries on this laptop!
G'day mates!
Andy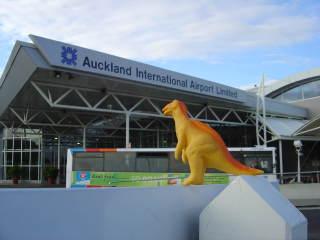 "Dino" arrives in Aukland, almost there!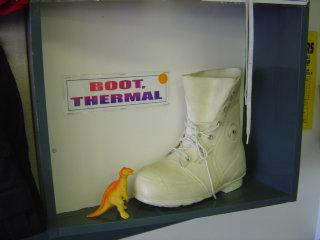 Dino checks out the ECW boots!
---
Contact the TEA in the field at .
If you cannot connect through your browser, copy the TEA's e-mail address in the "To:" line of your favorite e-mail package.