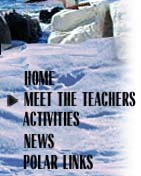 15 November, 2003
Greetings from McMurdo again!
Although it is a cloudy day, the scenery is still spectacular! On my way to the computer lab to have my laptop inspected so I could use it on the McMurdo network, I took a photo of what looked like a video smear on a digital picture. It was a fata morgana, which is a type of mirage. As you look across McMurdo sound towards the mountains, what appears to be a cliff face rises up out of the ice. It is in fact, an illusion created by the atmosphere. I do not know if the low res image does it justice, but our band width is so limited that sending photos over 15k is a problem. Before we get into the camp, we must go through a shakedown trip to practice our camp skills and crevasse rescue. In order to do the trip, the graduate student, Nate Smith and I had to take a training course on how to drive a Piston Bully, which looks like a ski slope grooming machine with a passenger cab on it, and also learn the driving differences in a wheeled pick-up truck and one with small triangular tracks on them. We were trained by ET (Elizabeth, but she likes ET not Liz!) She walked us through the predrive inspection and then put us through an obstacle course which is know as MCMurdo Station. It was all great fun but serious business since these machine were your life line to and from McMurdo and you had to treat these machines with great care. For the rest of the day our Mountaineer, Peter Bradock, had us sort and pack the field camp gear we will need for the remote Beardmore camp. Sleep kits, cooking kits, ice tools, packs, climbing gear, first aid bags and "human waste" removal buckets had to be inspected, packed, weighed and readied for transport. We worked in a building that had storage cages where all the science groups were doing the same as us. Some groups were already going out to the field, while others were just getting their equipment together. We packed as much as we could but held out other materials that we would need for our "shake down" trip. I am going to try to send some images today but I am unsure if they will go through so if they do not make it, I will keep trying to get them off from here. The connection is slower than dial-up at home although the intranet here is very fast and efficient.
Tomorrow is Sunday and we are off. I hope to take a hike with Nate and try to get some great images that do this place justice.
Cheers,
Andy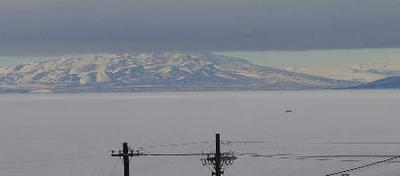 The Fata morgana can be seen as the horizontal area where the ice meets the mountains.
---
Contact the TEA in the field at .
If you cannot connect through your browser, copy the TEA's e-mail address in the "To:" line of your favorite e-mail package.