21 November, 2003
Our team is assembled at last!
Finally, we are all together. The team arrived on Thursday minus James Collinson, who was scratched at the last minute due to health reasons, his expertise will be sorely missed. Because it is such a logistical nightmare to get some one here, you can not simply call some one and have them jump into the vacant spot. So we will have to continue with just the six of us.
Dr. Phillip Currie and Kevin Kruger, the other members of the Hammer team (Noted on all shipments as G289M) are now at snow school. Dr. William Hammer, the Principle Investigator, only needs a refresher course since he has been to Antarctica several times before, so has remained here in McMurdo helping us, and checking over the details that we have been attending to in his absence.
One of the last jobs we had to attend to is getting the shelters that we will be taking to camp. So the four of us went over to equipment issue and obtained the tents. The one tent that was new to the group looks a bit like a caterpillar, and in keeping to the motto "Prior Proper Planning" we set about putting up the tent. It's about 8X12 feet and 6 feet high in the center, we were able to set it up in 8 minutes flat which is a good thing when you are looking for shelter. Then we discovered a spreader bar that was suspect, we found out that it was a new type bar but we had an older type tent so we obtained the correct one and reset the tent. The tent is designed as a work and cook tent which has a trap door in the floor so you can have access to the ground underneath. Tomorrow, when the two "Happy Campers" return, we will be going over the mission details and taking a closer look at the topo maps of the areas we will be working in. I have included a picture of our team in this journal entry, I wonder how different we will look when we get back.
Take care,
Andy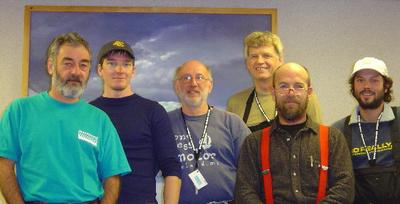 The G298M team from left to right: Peter Braddock, Mountaineer;Nate Smith, Graduate Student;Dr. William Hammer, Primary Investigator; Dr. Phillip Currie, Scientist; Andy Sajor TEA; Kevin Kruger, Technician.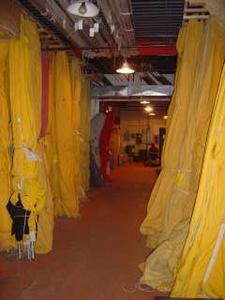 Scott tent store room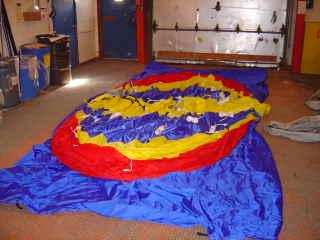 Our camp cook tent out of the bag ready for set up.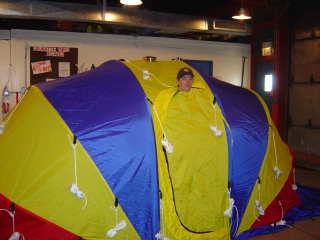 Once the tent was set up, it reached out and swallowed Nate!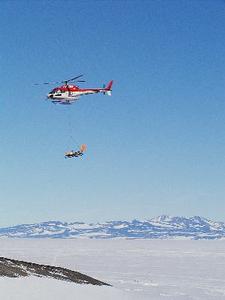 A helicopter transports a snow sled out of McMurdo. Notice the vertical stabilizer on the tail of the sled?
---
Contact the TEA in the field at .
If you cannot connect through your browser, copy the TEA's e-mail address in the "To:" line of your favorite e-mail package.