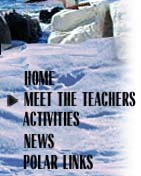 12 November, 2000
Hello All,
I cannot believe that this journey has finally begun. I left El Paso on Friday morning and arrived in Punta Arenas, Chile on Saturday evening around 5 p.m. I was meet by my PI (Principal Investigator) Ray Smith. He is the scientist that I will be working with for the next five weeks. He is an incredibly smart man who looks a lot like Robert Dinero. I was immediately taken to a clothing warehouse where I was custom fit with my supply of warm clothing. Mario, my outfitter, was extremely helpful. He asked "What size gloves will you be needing?" I just had to laugh. I don't think I own a pair of gloves and certainly can't remember when I last wore a pair. Thankfully, Mario found a pair for me that fit.
After I was equipped with all of my cold weather gear I was taken to the M/V Laurence M. Gould. The Gould is a large vessel, about 230 ft long and 43 ft wide. It was put into service about three years ago, and has accommodations for up to 56 people. The ship was scheduled to leave for Palmer station Sunday afternoon at 2 p.m. It normally takes three to four days to get to Palmer, but this trip will take about 6 days since we will be stopping at an Island on the way.
After settling in on the ship I went for a walk through the city the city of Punta Arenas with Ray. It was about 8:00 o'clock and the sun was still high in the sky. In El Paso, the sun was setting around 5 p.m. Why was the sun still up? It took me a couple of minutes to realize that I had traveled to the Southern Hemisphere. In the Northern Hemisphere the number of hours of daylight decrease as we approach the winter solstice, around December 21. In the Southern Hemisphere it is the exact opposite. As it approaches December 21 the number of hours of daylight increases. All caused by the tilt of the earth.
-- Bill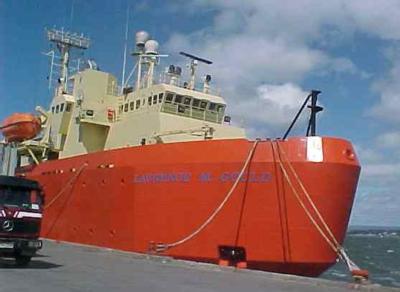 M/V Laurence Gould, The ship that will take me to Palmer Station
---
Contact the TEA in the field at .
If you cannot connect through your browser, copy the TEA's e-mail address in the "To:" line of your favorite e-mail package.