15 November, 2000
Hello Everyone,
Last night a research group deployed the CTD (Conductivity Temperature Depth) instrument. This device that they put in the water holds 24 Niskin bottles (see picture below) and several other devices that read temperature, density, salinity, depth and irradiance. The CTD can be modified to record other data as needed. The Niskin bottles can be remotely closed at various depths to collect water samples. It also send back real-time data, like temperature, salinity, and depth to the Gould as it is being lowered. As soon as the CTD is back on the ship, crews of researchers descend upon the device to quickly collect samples. If they don't collect their samples immediately then valuable data could be lost.
As soon as the others collected their samples Ray and I collected samples from Niskin bottles 1, 11 and 12. Bottle one was collected at the deepest depth, 200 meters or about two football fields in length. Bottle 11 was collected at 10 meters depth and finally bottle one was collected at five meters in depth. At 200 meters there should be very little phytoplankton growing due to the lack of sunlight. So when we test the 200 meter sample our chlorophyll samples should read zero or close to it. The other two samples should give us a high values since they are close to the waters surface. When we get to Palmer Station we will determine the exact amounts of chlorophyll.
Tonight they will be deploying a second CTD and I was given permission to watch the deployment from where the operator positions and deploys the CTD. Once they bring it back on board again we will collect samples and determine the amount of chlorophyll. There will also be a presentation by the lead scientist on Cape Shireff. He will be discussing what they hope to learn and what they have already discovered. Earlier today I was invited to a briefing by a team of scientist who will be conducting their research on Deception Island. I'll give you the details tomorrow.
So stay tuned for tomorrows action packed episode. It'll be a good one.
-- Bill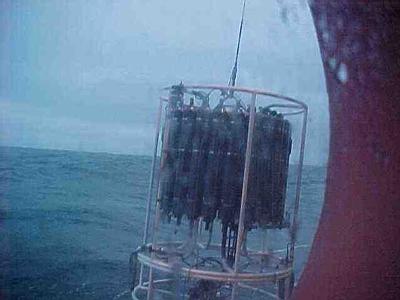 Deploying the CTD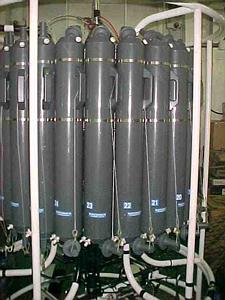 Niskin bottles labeled from 1 -24.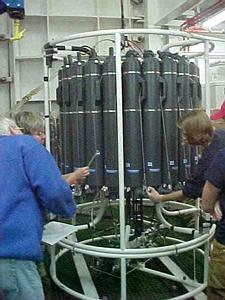 Researchers collecting samples from the CTD.
---
Contact the TEA in the field at .
If you cannot connect through your browser, copy the TEA's e-mail address in the "To:" line of your favorite e-mail package.