19 December, 2000
Greetings,
Today the Gould was scheduled to arrive, but because it was stuck in ice it will be a couple of days late. We got word late this afternoon that after being stuck in the ice for nearly 30 hours it was able to get free. It is now headed for Palmer Station. There was a possibility that if it had been stuck in the ice much longer I might have stayed here until the end of January. As much as I like it here my students in El Paso would have missed me. When the announcement was made there was a collective sigh of relief. There are four other people on station that are headed back to Punta Arenas.
I spent the day trying too catch up on some of my work. Mostly editing on the computer. I did go out with Sylvia to station B and collect some water samples at various depths and filtered water when I returned. As the summer wears on here at palmer the snow is melting away and the Elephant Seals have moved in. There are right next to the BioLab building. They smell like they are in bad need of a shower and their odor permeates the entire station when there isn't a breeze.
Tomorrow night the dive team will lead the science lecture. They are going to share some of their underwater video and discuss what they have learned. I'll be sure to give you a full report.
C-Ya,
n Bill
Ps.
Today is my daughter's birthday. She is 10 years old today. Happy Birthday Jenny. Make sure your sister Jessica takes good care of you on your special day and I am looking forward to seeing you soon. I love you.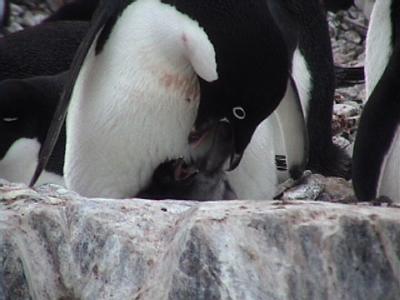 Feeding the hatchling.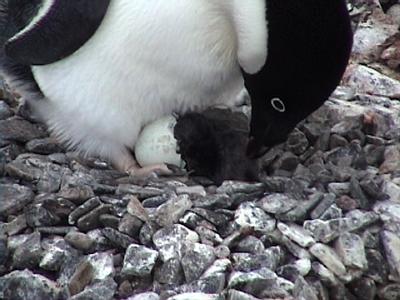 A chick that just emerged from the egg.
---
Contact the TEA in the field at .
If you cannot connect through your browser, copy the TEA's e-mail address in the "To:" line of your favorite e-mail package.