8 December, 2000
Greetings,
Today I can truly tell you I was cold. We were scheduled to go out and drop our electronics package in at Stations E and B. We left at about 9:30 am. It was overcast and there was a light wind, a typical Palmer day. I was dressed as I always, fleece with a float coat. Most of the time I was too warm on a zodiac. The only exposed skin would get cold and that would be my face.
We arrived at station E, about 4 miles from station and there was some small one to two-foot waves. We made one cast with the hydroscat and three casts of the electronics package. Every time we made a cast with the ac9, electronics package, my hands would get wet. The water temperature is always right around freezing or zero degrees Celsius. In the distance we could see what looked like rain showers or snow showers. The wind started to pick up as we headed for station B.
The zodiac can travel about 20 to 25 knots at high speed but our pilot, Ray, safely kept the speed down due to the increasing wave height and wind. Did you catch that mom, safely. With the increasing wind and being on the open water I started to get cold. Right through my float coat, through my fleece and through my thermals. We arrived at B and repeated the same casts as at station E.I tried to focus on something other than the cold wind. It felt great to be sending in the message that we were returning to station. About ten minutes after we arrived we had a snow storm blow through. It was over in ten minutes, and within two hours the sun came out for the first time.
It was a very busy afternoon. I took the daily ice pictures, filtered water for chlorophyll samples and helped Sarah run calibrations on the ac9. The ac9 is probably the most calibrated instrument on the face of the earth. After dinner my roommate, Tom, and me decided to go across to Bonaparte Point on the trolley. The trolley is a suspended seat between two posts on either side of a small inlet. There is a rope that you use to pull yourself across or get a friend to help you. It was hard work pulling yourself and your buddy across but well worth it.
On Bonaparte Point there are a group of elephant seals and a large number of Brown Skuas that call it home. As Tom and I were hiking across the point I came across some of the Skuas just a few feet away. Apparently they weren't afraid of me as they just stared. I am told that as soon as they lay eggs that they will dive at you to scare you off. I took several pictures and then we returned to station. As I type this I can tell you that my arms are feeling it.
Tomorrow I am going out with the bird team. We are heading to two different islands to count Adelie penguins. Hopefully there will be some babies. So make sure you stop by tomorrow.
C-Ya,
--Bill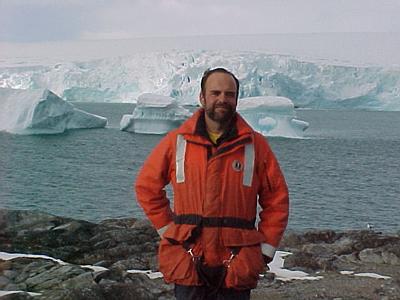 Me in my float coat on Bonaparte Point. The glacier behind me is the Marr Ice Piedmont Glacier. It is 180 feet high above sea level.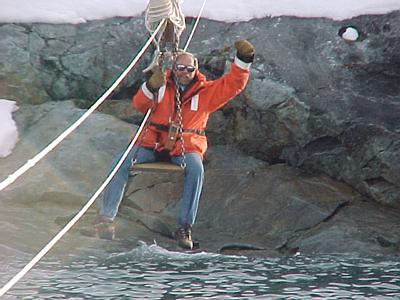 My roommate Tom coming across on the trolley.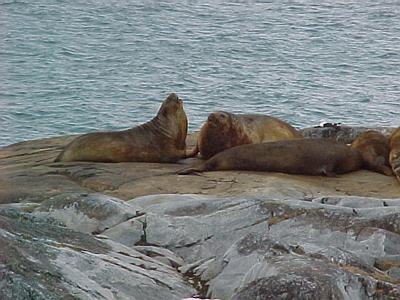 A group of Elephant Seals that call Bonaparte Point home.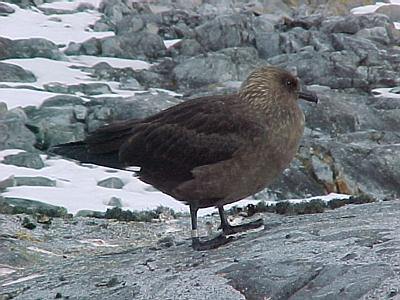 A Brown Skua. Notice that he has an ID braclet.
---
Contact the TEA in the field at .
If you cannot connect through your browser, copy the TEA's e-mail address in the "To:" line of your favorite e-mail package.