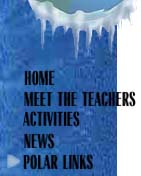 Life Sciences

The biology, ecology, and environmental science links do not necessarily include links to all of the Arctic and Antarctic Research Programs. Many of these programs conduct life sciences research; please browse the available links in the Polar Resources Arctic and Antarctic research programs for additional information.

C.O.O.L classroom Rutgers Marine and Coastal Sciences have built a special website for students and teachers that visitors to join the scientists in the COOLroom as they explore the waters off New Jersey.

LTER: Long Term Ecological Research program Long term monitoring of the biotic, climatic and nutrients of the lakes, streams and soils of the McMurdo Dry Valleys region to acquire information about this complex ecosystem.

Dr. Adam Marsh's Pages A wealth of information about diving, sea urchins, and the history of Antarctic exploration can be found on these pages.

Killer Whales From internet Alasks K-12 site. Information, activities, whale-watching links.

Leighton Taylor & Associates Join biologist and writer, Dr. Leighton Taylor, and renowned nature photographer, Norbert Wu, as they dive with research teams beneath the ice of Antarctica's Ross Sea, observing and recording the underwater world of McMurdo Sound. Their experiences will be documented in book about the marine life of Antarctica. Visit their site to read about their diving adventures and see previews of their photos!

Palmer Long Term Ecological Research Program (LTER) of the University of California, Santa Barbara (et al.) focuses on the pelagic marine ecosystem in the Antarctic, and the ecological processes which link the extent of annual pack ice to the biological dynamics of different trophic levels.

Office of Polar Programs (OPP) National Science Foundation (NSF) NSF's programs for support of research in the Antarctic and the Arctic.

Underwater Field Guide to Ross Island & McMurdo Sound, Antarctica Given that visual identification can be problematic, this Field Guide is intended to facilitate field identification of underwater organisms.

Virtual Microscope Website sponsored by Rutgers University that allows students to view Antarctic microscopic marine life.