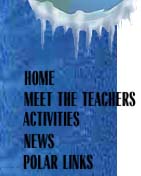 Notes from TEAs in the Field



The following are notes and suggestions compiled by past TEAs based on their field experience - before, during, and after!

The notes are intended to help new TEAs prepare well for the field experience they will encounter as a member of a research team. There are notes on what to take, what's available, ideas for substitutes, how to prepare your family, etc.

Feel free to contact any TEA for further discussion. Enjoy!



Joanna Hubbard - Palmer Station, Antarctica

Sandi Kolb - South Pole Station

Betty Trummel - McMurdo Station, Antarctica

Hillary Tulley - Remote Field Camps (Dry Valleys, Antarctica)

Betsy Youngman - Greenland Summit


Back to:
TEA Information Front Page