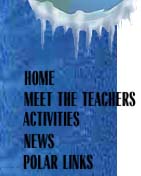 TEA Orientation Workshop
May 5 through 9, 1999



Parcticipants
Mr. Fred Atwood (TEAntarctic 1998/1999), Flint Hill School, Oakton, Virginia
Dr. Warren Beasley, NSF-EHR, Elementary, Secondary, and Informal Education, Arlington, Virginia
Ms. Elke Bergholz (TEAntarctic 1998/1999), United Nations International School, New York, New York
Ms. Myrtle Brijbasi (TEArctic 1998/1999), Suitland High School, Forestville, Maryland
Mr. Sam Carter (programmer), Rice University, Houston, Texas
Mr. Timothy Conner (TEArctic 1998/1999), Chenango Forks Central School, Binghamton, New York
Ms. Renee D. Crain, ARCUS, Fairbanks, AK
Ms. Besse Dawson (TEAntarctic 1998/1999), Pearland High School, Pearland, Texas
Dr. Linda Duguay, NSF, Office of Polar Programs, Arlington, Virginia
Mr. David Friscic, NSF, Office of Polar Programs, Arlington, Virginia
Mr. Guy Guthridge, NSF, Office of Polar Programs, Arlington, Virginia
Ms. Sharon Harris (TEAntarctic 1999/2000), Mother of Mercy High School , Cincinnati, Ohio
Ms. Nancy Hechinger, American Museum of Natural History, New York, New York
Ms. Michelle Hauschulz (TEArctic 1999/2000), Waianae, Hawaii
Ms. Joanna Hubbard (TEAntarctic 1999/2000), Hanshew Middle School, Anchorage, Alaska
Dr. Clare Intress, NSF-EHR, Elementary, Secondary, and Informal Education, Arlington, Virginia
Ms. Anna Klene, Researcher, University of Delaware, Newark, Delaware
Ms. Sandra Kolb (TEAntarctic 1998/1999), Poulsbo, Washington
Dr. Fae Korsmo, Office of Polar Programs, Arlington, Virginia
Dr. Maritza MacDonald, American Museum of Natural History, New York, New York
Dr. Debra Meese (TEArctic Facilitator), Cold Regions Research and Engineering Laboratory, Hanover, New Hampshire
Ms. Emily Olanoff (Web Master; programmer), Rice University, Houston, Texas
Dr. Julie Palais, NSF, Office of Polar Programs, Arlington, Virginia
Dr. Dennis Peacock, NSF, Office of Polar Programs, Arlington, Virginia
Dr. David Petzel, Researcher, Creighton University School of Medicine, Omaha, Nebraska
Dr. Thomas Pyle, NSF, Office of Polar Programs, Arlington, Virginia
Ms. Catherine Roberts (TEAntarctic 1999/2000), W.E. Waters Middle School, Portsmouth, Virginia
Ms. Jean Roberts (TEAntarctic 1999/2000), Fresno, California
Ms. Veronique Robigou, Researcher, University of Washington, Seattle, Washington
Ms. Barbara Schulz (TEAntarctic 1996/1997), Lakeside School, Seattle, Washington
Mr. Robert Schlichting (TEArctic 1999/2000), Portland, Oregon
Dr. Stephanie Shipp (TEAntarctic Facilitator), Rice University, Houston, Texas
Ms. Valerie Sloane (TEAntarctic 1999/2000), Orcas Island Elementary School, Eastsound, Washington
Mr. Bruce Smith (TEAntarctic 1999/2000), Appleton North High School, Appleton, Wisconsin
Mr. Steve Stevenoski (TEA Antarctic 1995/1996), Lincoln High School, Wisconsin Rapids, Wisconsin
Dr. Wayne Sukow, NSF-EHR, Elementary, Secondary, and Informal Education, Arlington, Virginia
Ms. Betty Trummel (TEAntarctic 1998/1999), Husmann Elementary School, Crystal Lake, Illinois
Ms. Hillary Tulley (TEAntarctic 1998/1999), Niles North High School, Skokie, Illinois
Ms. Mary Wallace (TEAntarctic 1999/2000), Montweek High School, El Paso, Texas
Mr. Andre Wille (TEAntarctic 1999/2000), Basalt High School, Basalt, Colorado
Dr. Clarice Yentsch, American Museum of Natural History, New York, New York
Ms. Anne Zellinger (TEArctic 1999/2000), Haleiwa, Hawaii



Day 1
Thursday, 6 May, 1999, Holiday Inn, Arlington, Virginia


The day began with introductions and a presentation by Stephanie Shipp of the objectives of the Workshop and an overview of the TEA Program. The roles of NSF, the TEA Facilitators, ARCUS, and ASA were presented.

Workshop Objectives

Provide an avenue for Teachers Experiencing Antarctica and the Arctic (TEA) to communicate and collaborate before, during, and after the field experience.

Discuss experiences of previous TEA parcticipants and provide logistical information to the 1999/2000 TEA parcticipants.

Meet representatives from the Office of Polar Programs and the Division of Elementary, Secondary, and Informal Education.

Work with the TEA Web site (../) and become familiar with the software and technology that will be available to the TEA community

Plan and share paths for integrating the TEA experience into the classroom, school, and community.

Overview of the TEA Program
TEA is a program sponsored by the National Science Foundation (NSF)'s Division of Elementary, Secondary, and Informal Education (ESIE), and Office of Polar Programs (OPP) in which teachers are selected to travel to the Antarctic and the Arctic to parcticipate in ongoing research. TEA is a partnership between teachers, researchers, students, the school district, and the community with the following goals:

To immerse teachers in a research experience as a component of their continued professional development.

To have research experiences inform teaching practices; science investigations in the classroom should model the scientific process and the manner in which science is conducted.

To carry the polar research experience into classrooms in rich, engaging, and innovative ways that underscore the relevance of science and the scientific process to society and individuals.

To establish a growing, collaborative "Polar Learning Community" of teachers, students, school districts, researchers, and the community to build on the TEA experience.

Roles of Organizations
OPP and ESIE work together to solicit, select, and match applications from teachers and the research community. Together they provide funding and logistical support for the teachers in the field. Both communities are invested in the TEA experience and desire to see the TEAs succeed in the field and share the experience in diverse ways following the research experience.

The TEA Program facilitators work to ensure that the TEAs and researchers are aware of the TEA responsibilities and are prepared to carry these successfully in the field. The TEA Program coordinates workshops and assists TEAs in meeting their responsibilities in the classroom.

The Antarctic Support Associates (ASA) and Arctic Research Consortium of the United States (ARCUS) provide logistical support while the TEAs are in the field. ASA support is accessed through the research team and PI; ARCUS support is accessed directly by the TEA. These groups ensure that the TEA has the proper clothing and equipment for the field experience, and supports the TEAs needs in the technical realm.

Field Presentations
Science projects and logistical considerations were presented by TEA parcticipants from previous seasons. The presenters will provide a written list of suggestions and ideas that will be placed on the TEA Web site.


Elke Bergholz: Ozone Investigations, Amundsen-Scott South Pole Station
Tim Conner: Archaeological Excavation at a Remote Village, Deering Alaska:
Fred Atwood: Strategies for Surviving in Icy Waters, McMurdo Sound
Hillary Tulley: When Were the Dry Valleys Glaciated?, Dry Valleys
Besse Dawson: Dissolved Oxygen Investigations, Antarctic Peninsula, R/V Gould
Sandi Kolb: Long-Term Life Style and Operations, Amundsen-Scott South Pole Station


TEA Program Responsibilities
In the afternoon, the TEA Program Responsibilities were reviewed. New parcticipants were requested to review and initial the individual responsibilities to verify their commitment to the TEA Program.

Research and the TEA

First Steps

Start getting into shape!

Communicate with PI and TEA partner to begin preparing for the field experience.

Plan visit to the PI's institution.

Plan PI's visit to the school.


When You Visit the PI

Become familiar with the research project and your role in it.

Meet team members.

Discuss field logistics (sample permits, medical information, travel, etc.).

Plan your research project if you have an independent project.

Share the TEA Program and responsibilities.


TEA in the Field

BE SAFE!!! Be flexible. Be professional. Be considerate.

Perform research duties.

Maintain electronic journals and correspondence with classrooms.

Field Follow-Up

Keep your PI posted on your outreach activities. Submit hard copy of the journal to ESIE within 3 months.

TEA and the Classroom

Maintain daily electronic journal and communications with classrooms while in the field.

Send copies of 20 to 30 slides with an electronic figure caption to the TEA Archive within 6 weeks of return from the field.

Send copies of 6-8 prints that depict the field experience with an electronic figure caption to the TEA Archive within 6 weeks of return from the field.

If video is collected, send an edited copy will go to the TEA archive.

TEA Presentations

"Broadcast" the upcoming adventure to the community; reference
NSF, TEA, and the school and district appropriately.

Give presentations about the upcoming expedition to local K-12 classrooms (etc.).

Provide at least six presentations to the public about the research experience
and TEA.

Present the experience to the local board of education.

Polar Experiences in Other Classrooms

Develop at least two activities within one year of return from the field. Present the materials at NSTA and on the TEA Website.

TEA Meetings

Attend two meetings, if funding is available to support attendance
(e.g., NSTA, Orientation, Activities Workshop).

TEA Parcticipants as Partners and Mentors

Act as a partner to new TEA parcticipants. Mentor two to three peer teachers for 100 hours each over three years. Document and share the experience with the TEA community and with NSF.

Act as a Facilitator for TEA Associates.

Report-Out

Evaluation.

Annual report.

Copies of video and print media to the TEA Archive.

Afternoon discussion focused on the expectations of researchers and TEA parcticipants. The discussion was lead by panel members David Petzel, Anna Klene, Fred Atwood, and Guy Guthridge. Information about researcher expectations focused on:

Be safe.

Need for flexibility and a positive attitude.

Good communication is crucial to a successful field experience; communicate your ideas, questions, plans, where-abouts, concerns, etc.

Long hours are part of being a research team member - especially with

responsibilities to the TEA Program.

PI's appreciate people who are willing to work hard and well with the team.

The season is short and intense.

You may encounter "rudeness" - but remember that the season is short and this is the sole opportunity to collect data in many cases.

Be patient.

Be aware of limits in time and budget.

Many PI's appreciate having TEAs as part of the research team.

The evening closed with a presentation and discussion about Arctic considerations and safety by Deb Meese.




Day 2
Friday, 8 May, 1999, National Science Foundation, Arlington, Virginia



Documenting the TEA Experience
Maritza MacDonald lead a discussion about documenting the TEA field and classroom experience. The responses below are those of the workshop parcticipants.

Why Document the TEA Experience?

Your shoulder will be tapped over and over to share your knowledge.

Ideas should be accessible for orientation whether or not the TEA is attending.

To know how the experience affected the class while you were in the field and after.

To have more exchanges of information from those already in the field.

To make the experience "your own" Many models from which to choose - no specific model of how the experience should be.

To share ideas for bringing research into classroom.
What would TEAs like to share with an audience a year after being out of the field?

Day to day life should not be ignored (e.g., what where dorms like?).

Add to past stories and continue the story of the research when you study an area that has been previously studied by a TEA.

Personal feeling - describe a day - how was it there? Describe described feelings and excitement. Tell what impact it had on you so people not going there can connect and feel your excitement.

Share the passion for the place and the science.

Trade and share slides and pictures upon returning.

Plan what you want as visual resources when you begin presentations.

Describing the struggles you are going through - bring the experience to others.

Decode the mystery of science - not just "cleaned -up science."

Share what science does to make us better. This brings in the whole spectrum of science literacy. Only when equilibrium upset is when you learn from the experience.

Capture the moment of chance and why something didn't work.

Share the extreme conditions and struggles.

Be frank with students - they are interested with what happens in field situations.

Assist with translation of science "language" used.

Ask questions of the researchers and share that you are asking questions. The TEA has an important role in being the science translator; their own questions are important. In a way, they open the communication for the researchers.

This is a professional development and personal growth experience. Teachers never stop inquiring and learning; students should never stop inquiring and learning.
Scientists as guest speakers

TEA should help the researchers determine what (and at what level) goes into classroom presentations. Relate presentations to things the

students already know and / or are doing.

Help researchers with analogies to assist students in their understanding.

Remind researchers (and TEAs) to "Keep It Simple Stupid" (KISS).
How does Experience Influence TEAs?

TEAs are placed in the role of learners in the field - they are not the keepers of the knowledge. This can serve as a useful mirror on what students feel, fear, experience - use this knowledge to help students learn!

Students see the teacher as a learner - very powerful!

May have different impact within the school district. It is important to document this impact for future TEAs and other research experiences. Some schools (administrations, principals, etc.) may be supportive and safe for sharing this unique opportunity, others may "punish" the TEA for their experience. The TEA may be viewed as "being out of school

too much and not carrying their load."

The experience may influence the entire staff.

The TEA is a middle point between science and the classroom - possibly even the most qualified translator; it helps to document how this process occurs.

Not every student will be a researcher; individuals with different backgrounds help the process of science and this should be shared.

TEAs can assist students in seeing the diverse ways in which science can and does relate to them.

TEAs can help students explore other roles (e.g., women as cargo loaders).

What Resource Support Do TEAs Have?

Inventory books in the library; is the information good information?

ften elementary librarians are not prepared to assess if science information is accurate.

Resources are important even if the material is "not on the test." Often science content is important on the test because the students have to analyze stories that involve science content -- even if the purpose of the test is to

examine reading or math skills.

Including Classrooms in the TEA Experience
The morning session included a discussion about how TEAs have encouraged parcticipation by classrooms in the field experience. Discussion hosts included Betty Trummel, Hillary Tulley, Elke Bergholz, and Tim Conner.

Betty Trummel:

Created packet for teachers that included:

Antarctica/Polar Connections

How to get to website and how to navigate

verhead on North and South poles activity (what happens where)

Pictures of herself in polar gear

Card of her contact information

Cover letter

Sent packet colleagues and friends in as many states as possible - requested they share with their classrooms

Developed a spreadsheet to keep track of speaking engagements

Dressed students in gear

Shared books and other resources

Responded to ~ 40/60 letters each day while in the field

Provides flyers for Illinois teacher conventions

Receives district help to cover the expenses of packages, travel, time off, etc.

Finds her experience pays off in feedback

Currently presents 2-3 times each week (includes pre-service teachers, rotary club. advisory board, other districts, etc.)
Hillary Tulley:

Made gigantic resources list that included two highly recommended books (The Worst Journey in the World and Below the Convergence), map resources, locations for aerial photograph acquisition, videos, etc.

Recommended use of the resources from other TEAs - collaborate!

Spoke with ~200 students before she went to the field

Continues with in-services

Shares ideas and program with committees and curriculum teams at the state level
Elke Bergholz

Maintained contact with other teachers at her school

Created a packet of information for each teacher contacted - mailed this ~2-3 weeks before she went into the field

Provided an itinerary of her research schedule so others could follow

Provided background on science content, summery with questions for class, ozone websites, etc.

Sent data back to classrooms interested in analyzing information and following her research

Carried T-shirts and school flags for images at the Pole

Created folders for her students about her polar work so that they would feel like they were part of the adventure

Encouraged junior high and middle school art and geography classes to follow her.

Parcticipated in 2 presentations each week

Hosted CU-SeeMe sessions (note that schools need to be prepared for using the technology)

Sent letters to the entire educational community (e.g., cooks, janitors, etc.)

Specific resources:

Take a stuffed or inflatable penguin or polar bear

Videos (Cancer of the Sky; Warnings from the Ice)

Pursued inclusion in local newspapers and news

Included a summary on the school Web site
Tim Conner:

Shares the culture of the Arctic by tying Innuit classrooms to the teacher's classroom.

Focuses on the children of the culture, not the adults. Best if the students can connect with each other without the TEA or other teachers in the middle.

Has his classes interact through e-mail, CU-SeeMe with Alaskan classrooms; students are engaged at a personal and scholastic level.

Summer experience challenged connections to classrooms; brought experience to the classrooms in the following fall.
Discussion
What is your financial commitment versus support from school, state, or district? Some is your own. Be sure to ask your school. This research experience is a partnership between the TEA, the district, and the NSF. There were some expectations of the district (time away from the classroom) in the application.

Did all of the PI's desire inclusion in the Web site, etc.? Be sure to talk to your PI about quotes on big issues. You don't know where quote will end up. Be careful - misinformation can be politically disastrous. Make sure they are "onboard" about what you share with others through the activities and Web pages; "scooping" them is a definite "no-no."

Note that there are sensitive cultural issues in the Arctic. An "Eskimo" is not an Indian.


Program Views - ESIE and OPP
The morning discussion included introductions and presentations by the Office of Polar Programs staff. Guy Guthridge and Fae Korsmo provided an overview of Arctic and Antarctic logistics and research projects supported by OPP.

Fae Korsmo:

Arctic System Sciences - focuses on global change

Individuals must share data to get overall picture in Arctic (e.g., SHEBA)

Social Science projects include anthropology, economics, political science.

This social element is significantly different than in the Antarctic. There

is an indigenous population which requires ethical guidelines. There is a

responsibility to consult with communities in Arctic. This also yields a

richness to the projects.


Issues include:

Who lives in the Arctic?

What are subsistence rights (e.g., hunting, whaling, sealing)

What are subsistence rights when the animals are endangered?

What are the commercial rights?

What about other resources?


Resources include:

Always Getting Ready

People and the Arctic - basis for the human dimension of change

Arctic Research - of the U.S. A.
Guy Guthridge presented an overview of the Antarctic Sciences Section.

Dennis Peacock, Section Head for Antarctic Sciences, Tom Pyle, Section Head for Arctic Sciences, and Wayne Sukow, ESIE, presented the programmatic view of the TEA Program at the National Science Foundation.

Dennis Peacock:

TEA is part of grand strategy objective to integrate science and education.

Be safe! Seriously. There is an infrastructure to keep you safe. Don't take risks, use the buddy system.

Be aware of restrictions. Keep the continent pristine. The Antarctic Conservation Act exists to protect the wildlife from disturbance. There is a $ 5000 penalty for abusing the Act.

Use your own initiative. You are entitled to be present within your own group. It is okay to ask to help with other groups if your PI approves and time and resources are available.

Communicate! Stay on same wavelength as your PI.

When you return, think about how to leverage experience with students and outreach to public. This is a valuable return of investment. Develop new instructional materials.

Enjoy yourself!
Tom Pyle:

ffice of Polar Programs focuses on polar regions - global change.

This is of special interest in underrepresented stake-holders - Alaska natives.

TEAs working in the Arctic should talk to local groups, provide public briefings, access telecommunications

The Arctic has all of the issues and challenges of the Antarctic environment........ plus polar bears - think about it!
Wayne Sukow
Goals and Visions of TEA program from the ESIE point of view:

1. TEA is a research experience.

2. TEA is about transfer to the classroom.

3. TEAs are part of learning community - shared experience.

4. TEA is about impact.


TEA is the integration of education and research; Wayne and ESIE want to see it succeed (hence: What Wayne Wants, Wayne Gets!). Involving more teachers means involving more students.
Discussion:

For the Arctic communities: do a lot of listening and observing. RESPECT! You are in their community.

The native communities have power and rights. They are directly in charge of local environments. For example, the Innuit have home rule in Greenland - the Danish Government has

international rule.

There is a political struggle over land and water.

Getting a job done can mean forcing the proper way to get things done.

The native cultures have considerable knowledge based on their experience (e.g., whaling counts done "scientifically" were incorrect; native knowledge had more accurate information).

NSF Rural Alaska Systemic Initiative makes connections and traditional knowledge as it exists in the Arctic community.

Politics influence science.

Web site presents various Arctic issues .


Good Resources:

Greenlanders and Whaling, R. Caulfield

Smila's Sense of Snow

Voyage of the Narwhal Andrew Barrett

Arctic Dreams, B. Lopez

Island Within, R. Nelson

A Map of the Human Heart - Fiction movie about W.W.II. Good images of Arctic.

Vision Man. Innuit elder through his life.

Margaret Mead anthropological investigations


High Latitude - books etc. about polar regions

Bob Finch
Phone: 206-842-0202 fax 206-842-6101
P.O. Box 11254
Bainbridge Island, WA 98110
email: highlatitude@cwix.com
Best Human Resource:

Dave Friscic, OPP information contact; Please make use of his expertise .

As TEAs, there should be careful consideration to issues such as tagging and study of Antarctic animals, human use of Arctic natural resources by natives, etc. TEAs should always explain the restrictions and oversight of these rights and legislation in response to public comment.

TEAs can get permits for certain collections, but keep in mind the legal aspects of all collecting. ASK!

Can TEAs access a list of current research projects? Yes. Through the NSF website - can sort by year, researcher, subject, etc.

Do researchers mind TEAs contacting them? Let them know who you are - they may say no, but typically they respond.

Is there such a list of projects for Arctic too? - only on web available in several formats
any grantee of NSF is on web search tool


Effective Communication from the Field
What makes a "high impact" journal?

Descriptive, but of limited length. Determine who is your audience.

Pictures -lots - of people doing things (not of equipment alone!).

Describe successes/ failures.

Perhaps have several levels (e.g., what happened today, higher level science information, meteorology, critter sightings). Be consistent in the use f levels. Have general audience and maybe an upper level discussion separated.

Include question(s) at the end - answer in next day's journal.

HTML anchors or header - TEAs can put these into their journals (ditto hot links).

Write for your class age level.

Cover multiple topics.

Time constraints - you can't write everything.

Keep It Simple, Stupid! (KISS)

Incorporate students questions - answer by name/location, first name and

state - do not use last name.

Include artwork.

Can digital cameras be acquired on a grant (SSS: unfortunately equipment cannot be part of the grant; up to individual TEA; Program can help with letters).

Immediate posting is a bonus.

Consider each journal as an individual entry.

Personalize. Include your location, weather data, organisms observed, unusual activities that day.

Conduct interviews of those around you; humanize science. Use support staff as well as research/community.

Perhaps have a second hard-copy personal journal - in addition to public Web journal. Take pencils (+ color), post-its.

Ask your researcher to make contributions and / or check content.

Get a disk and hard-copy of journals.

Perhaps have a voice activated tape recorder.

Share (approved!) research results through web.

Go with basic who/what /where/why questions for starters to each journal.

Conduct and report student experiments. Accept and conduct student experiments while in the field where possible.

Include research, technology, engineering, tools, instruments, scales, etc.

Share what it takes to do research - scientists are not the only critical ingredient to the process.

Share the practical use of the scientific process.

Ask questions - help students learn to ask questions.

Provide resources from books, Web, video, etc.

CU-SeeMe

Person connected more with their life.

Humanizes experience, but always assume you can be seen!

Even without a camera, the kids can see you - can respond to typed message.

Issues of security - recommend one computer / room or school.

TEA attempts to screen those who have bad behavior.

How can questions have more depth? Have students write questions ahead to avoid duplicate questions.

Try it many times.

Have delivery list to contact before you go or other contacts on disk to copy to email in AA or Arctic.

Propose activities and experiments in journals before the session to increase the classroom value of CU-SeeMe (not just an "oh wow" toy).

Have something to initiate conversation - visual - props.

Note time delays between field station and schools.

Patience and flexibility....as always.

May be able to parcticipate and / or host sessions when at home.

Is hardware /software such that that I could take it with me and set it up there? Yes!

It is up to you to decide when it can happen - class time if possible.

Please let Steph and Deb know when it will work for you. They will advertise the session.

Plan to do a few sessions - some with your class exclusively, some with other classes.

PP has agreed to help TEA establish CU-SeeMe access at the stations in Antarctica (next year more in the Arctic). There will be technical assistance in the field.

New TEA's Only Session
The opportunity for new TEAs to express their ideas and concerns in a smaller group occurred for a short time with Dave Petzel and the TEA facilitators following lunch. Discussion among the new TEAs included:

The "super TEA - how can a single TEA do it all?" Answer: They can't! Use your support network. Use the strengths and efforts of other TEAs to build upon. Collaborate and do and be your best!

The commitment level is a bit daunting. The application did not really indicate the depth of commitment, but, then again, this is difficult to capture.

How does the application process work? TEAs submit their applications to ESIE. Interest in parcticipating by PI's is solicited by OPP. Teachers are ranked to parcticipate. PI's are selected (pool). ESIE and OPP work together to identify teams based on similar interests and skills. If there are concerns, the PI should express these through OPP and ESIE. TEAs should express these through the TEA coordinators.

Concerns about getting along in the field and getting along with the researcher team. Again, TEAs should strive to do their best. This is like any situation in life where you work with others. There will be bumps and scrapes along the way.

This is the TEA's program - build it, make it your own!

The day closed with a brief introduction to sending electronic journals and e-mail. CU-SeeMe overview




Day 3
Saturday, 9 May, 1999, National Science Foundation, Arlington, Virginia



CU-SeeMe and Journal Sending Practice
The morning began with the new TEAs becoming familiar with CU-SeeMe and electronic journals.

TO SEND JOURNALS:


To: journals@tea.rice.edu
Subject: lastname journal mm/dd/yy
(e.g., shipp journal 01/09/99 - this is the JOURNAL day,
which may not always be the day you are sending it!)
Cc: shippst@ruf.rice.edu
Body of the text is the journal entry. ATTACHMENTS WILL ***NOT*** WORK.


If you wish to overwrite a journal entry, just resend the entry with an identical lastname journal mm/dd/yy. Note that re-sending a day's entry overwrites - it does not append.

TO SEND AN IMAGE:

a) to have the image show up at the end of the specified journal (See Trummel)


To: pictures@tea.rice.edu
Subject: lastname journal mm/dd/yy (e.g., shipp journal 01/09/99)
Cc: shippst@ruf.rice.edu
Body: caption of picture (one image and caption per message)
IMAGE AS ATTACHMENT

OR

b) to have the image show up on the webpage in a slide show (See Giesting)

To: pictures@tea.rice.edu
Subject: lastname pictures (e.g., shipp pictures)
Cc: shippst@ruf.rice.edu
Body: caption of picture (one image and caption per message)
IMAGE AS ATTACHMENT
Web Site
../
TEA's Only (Page Bottom):
login: tea
password: tea


Field Presentations
Following lunch, presentations by TEAs from previous field seasons commenced:

Barbara Schulz: Life in Lakes, Dry Valleys

Myrtle Brijbasi: River Otters and Oil Contamination, Prince William Sound, Alaska

Betty Trummel: Cape Roberts Drilling Project, McMurdo Station

Deb Meese (for Deb Meese and Tim B/uckley): Sea Ice and Ice Core Investigations, USCG Polar Sea, Polar Locations

TEA Outreach Models
Discussion and presentations by Besse Dawson, Barbara Schulz, and Tim Conner included:

An instructional materials development project (the GLACIER project), which involves several TEAs in the roles of design team members, reviewers, and on-line facilitators (spring of 2000 pilot test).


Research initiatives that involve TEA collaboration for outreach components (e.g., Long-Term Ecological Research (LTER) Project).


Classroom projects that connect students from different regions (e.g., Alaska and New York student network).

At this point, the parcticipants finally appeared worn down. The Orientation ended with a one-word descriptor by each TEA of what is the most important thing they wished to share with New TEAs, the announcement of the winner of the TEA Acronym contest (congratulations Joanna Hubbard!), evaluation of the Orientation (follows), and a group picture.

The day closed with a presentation by Stephanie Shipp of her research in Ross Sea, Antarctica. No one fell asleep.


Evaluations:
First Day's Comments May 5, 1999

New TEAs
I didn't think it was possible but I am even MORE excited about going that I was when I arrived yesterday. The talks were excellent! Hearing last year's TEAs' stories makes me want to go NOW!!!!!! Every talk was incredibly informative. Information dissemination was very clear. I think we've gone over the scheduled amount of time, but I could continue to listen more! Thanks for a great day!

Answered millions of my questions. These were excellent topics to start with. Dealing with practical getting there and doing things on the ice - general issues- the first day gets all the worrisome questions out of the way so we can work on detailed new knowledge for the rest of the orientation. Fabulously useful to have researchers, NSF staff and previous TEAs all in one place.
A very informative day. I feel much more comfortable about next year's activities.

A handout like the one Fred gave us would have been helpful from all TEAs. Overall it seemed to accomplish its goals.

The day was very informative, though I already had a lot of information via being involved as an associate. I especially enjoyed Guy's presentation - he supplied missing info re: PIs that I've been wondering about and I got my questions answered.

Very helpful. Loved the presentations from last years TEAs because it let me see what I might do/live/deal with. Was surprised at the diversity of experiences from last years teachers. Seems everyone has their own adventure and they are very personal. Great day. Thanks

Gained a lot of info and answered many questions. A few more short stretching breaks would be a good idea. I feel much more comfortable with the program. No major questions as of now.
Today's information was very useful to me. The group discussions seem to be most effective.
This is simply too much to think of to ask so the open discussions seem to answer many questions. The presentations from TEA of prior seasons were enticing and simply have me drooling! Thanks-

Things were very informative. Everyone is so anxious to speak and share what they have experienced. I cannot imagine leaving out any part. It was great having everyone's perspective. Other stuff: Resources for inexpensive silk underwear, for example.

I now have a much clearer picture of what I will be doing via the TEA experience. Numerous questions I have been carrying with me the last few months have been answered. I'm inspired.
Very interesting! I could have listened to the presenters all week... I have already learned so much: What to pack; What life on ice is like; Why researchers get involved; what to expect of TEAs. All invaluable information!

Extremely informative. Answered many questions. Start earlier to have more time.

Staff and Experienced TEAs
Day went well overall. Arctic propels and questions are still much different that Antarctic and are sometimes not treated as heavily - more time to move around, stand up, etc.

I think more periods for open discussion would be helpful. Also arrange the chairs in a circle to promote more discussion. Slides were very important to promote discussion and introduce the poles.

Too hard to sit. Tell us that you MEAN 15 minutes. A fan in the room. I thought this year's was REALLY informative.

I think today helped clear up a lot of questions for TEAs - especially those going to the Antarctic. Guy G. was very pro-active and I think it would be helpful to have Guy's Arctic equivalent present to represent those teachers going to the Arctic.

Well approached as a resource for new TEAs. Very useful to see TEAs of other generations and learn about their work. Improved orientation. Topics covered good. New TEAs should have a good overview.

I think the format is right-on. The opportunity for the TEAs who have most recently returned from their field experiences to share and listen to how it went for others is GREAT! It helped me as a new TEA last year- but this year as well. Expands our knowledge about the program and its parcticipants.

It was a great day to share. Probably more hard copy hand-outs or info on disk for teachers to take back. (notes, etc.) So much information overload - document notes as they are stated. Great PI input.

The day's program was extremely helpful! I only wish that I could have attended an orientation before going down to Antarctica! I'm still learning about the program and appreciate the idea-sharing time. Good sharing time an I'm coming away with new information to use. Thank you !!!!!!

Guy provided stats on Antarctic researchers. Please ask Fae to do the same. Folks should stand up to introduce themselves.


1999 Orientation Evaluations

Things to Start Doing:
A few individual meetings with the Arctic TEAs. It seemed they were left out in some parts
Include more from seasoned PI's
Included both Arctic and Antarctic TEAs to attend Arctic safety meeting. Make it part of the day. It was very interesting.
Let TEAs know who their mentors are. I was in the dark for awhile
It would be good to start on time.
Provide sub-days for this meeting since it is at the end of the year and it is difficult to get time with this short turn-around.
It would be wonderful to have as many current PI's as possible at the meeting (SSS: New format will include all new PI's).

Give new TEAs time to meet alone briefly (with Deb, Steph, and Wayne) right a the outset.

In a perfect world:
provide each TEA with a digital camera even if on a rotating bases from last year's parcticipants.
provide some reprints from research done in the past by the researcher.
provide copies of videos appropriate to the classroom for the Arctic and Antarctic.

Document comments each day so information during presentations is not forgotten.
Ask ALL TEAs to submit a sheet of "Things I wish I knew;" compile by location and pass out.

Break up longer periods of discussion in presentations with stretching or short activity.
More movement.

Discussion on mentoring. It needs to be fleshed out more.
Have decaff coffee and cold water.

I feel that some small group time should be devoted for mentor/mentoree meetings. Most all meetings were larger groups. Dividing up for a brief time would be great.

There seemed to be alot of open discussion which took away time from some who were expected to present -perhaps build these open-ended discussions into the agenda.
Make sure meetings are done by 5 so that there is a long break before dinner.
Relief from sitting is important.
Perhaps a more "hard science" presentation to set the tone for research by Steph or Deb.

Perhaps more time can be given to allow new TEAs a chance to debrief - initially, maybe two times each day - an am and a pm session, Maybe only once a day at the end of the day. This may help new TEAs filter the huge amount of information and fill in the blanks for confused areas.

More time on computers.
Get to a setting where ALL parcticipants can get on the machines.

Move the group periodically.
Breaks.
Different rooms.
Change pace.
Bigger room.
TEA trip to Smithsonian for a half day.

Stop a little early on one of the days so that we can go see the Capitol or Smithsonian.......Will I ever get another chance?

Having coffee / tea available in the conference rooms was wonderful. Could we also have a pitcher of water available.

Really keep people to 15-20 minutes for slide shows. Please - this will allow more time for discussion on outreach, mentoring, and pre-departure jitters.
Have designated documentors.
Have a mentor/mentoree meetings.
Maybe have sub ideas?

New TEAs writing down their goals which they can compare with each other and change upon their return.

Juice at the meetings.
First day - more movement.
Arctic clarity for budgets since the arrangement is a little different.
Contacts in New Zealand/Australia for Arctic. I will try to make some connections this year.

Earlier information for Arctic people (if not orientation).
Make sure commitment required is emphasized on the application - this is very vague.
Individual conferences with parcticular information on where each person stands as far as equipment, budget, etc. at their site (more information from PI's. Most questions were individual).
More PI's here.
More information on the Arctic.
Spread presentations through the day (only happened by chance).
Provide software, since it is so integral to the program.
Be more forthcoming about budget in general (e.g., stipends; NSF days - orientation should be covered because 1) they are short notice, 2) they show commitment to the program, and 3) school professional development days are used by the close of the year.


Things to Continue Doing:
Seasoned TEAs talks
Outreach ideas
Introductions of administration involved
CU-SeeMe instruction - keep it elementary
Group suppers

Experienced TEA reports
Technology and computer practice times
Interaction with a PI was excellent. I would like to see more PI's involved (see above)
Examples of journals and follow-up activities
Great experience. I had my questions answered and feel much better prepared.

Have a PI speak. Guy, too. Excellent information from both.
Have separate sessions for new TEAs for sure. Make it longer, maybe. It was really helpful and gave those who were very quiet in the face of all the last season's TEAs enthusiasm a chance to speak up.

Presentations from past parcticipants and researchers.
Advice on packing.
Advise on PI expectations.
Provide maps and booklets on areas of study.
Set-up Web page and picture.
Web page technology.

Format of orientation with experienced TEA presentations up front.
Maritza's input.

Organized and color-coded binders with paper tablet (only thing I forgot!).
Lots of presentations of previous TEAs experiences, great way to bring out bits of advice.
Group together activities such as dinner, etc.
Initial chat sessions, then three full days - whole time was necessary.

Excellent discussions on journals, outreach, preparation, life there.
Having PI's here is excellent
Continue being flexible about length of presentations. I really enjoyed all the TEA slides and descriptions even though they went beyond the 15 minute length.
Eating together.
Good mix of Arctic and Antarctic.

I felt all sessions were very worthwhile.
Good variety of materials presented.
Nice mix of seasoned TEAs.

The presentations by past TEAs.
Dinner gatherings.
The conveyance of incredible support.
The Web page / tech introduction - this was very helpful.
The upbeat and enthusiastic tone is very encouraging.

The orientation is absolutely essential.
The feedback from former TEAs was wonderful.
Allowing new TEAs time to voice comments apart from returning TEAs was very helpful. This helps to alleviate the building anxiety and seemed to give quieter teachers a voice.

Having former TEAs share their experiences
Interaction good.
Meals together.
Overall excellent orientation - I feel much better.

Hotel close to NSF.
Meals together.
High level of organization.
Friendly, supportive atmosphere.

Presentations from past TEAs. These were the most valuable part.
Everything was very well done. Time was well used.

The CU-SeeMe training. These 4 hours were very informative.

The round-table seating for the promotion of discussions, learning to know the new names, and an informal scene.

Dinners together -good chance to talk to everyone.
AM coffee.
OPP, ESIE, NSF talks -very important.
Outreach.

Ice breaker is very good the night before.
Presentations -field wok, outreach, etc.
Dinners together on al nights.
CU-SeeMe introduction.
Visit by OPP representatives.
More discussions with new TEAs.

Slides, sharing
Timing of sessions and mix-up.
Long-range planning is good.
Organization / hotel / plane/ etc. is good.
Presenters were excellent.

Group dinners.
Well organized!
Allow for so much discussion time.
Continually asking the questions.
Using so much humor.
So much was good - too hard to list.


Things to Stop Doing:
Some of the presentations were too long on Thursday - especially since we have them back to back. Using a time-keeper on Saturday was effective and helped the presenters focus on being precise.

Can't think of anything I would take out.

Nothing.

It would be great if time, but the 9 pm talks were too late for conscious TEAs.

Not as many former TEA presentations.
Room mates with experienced TEAs sometimes misses its mark; there needs to be a way to fix it if it doesn't work.

Less talking about software and more doing.

Everything seemed necessary and worthwhile.

The seating in rows the first day.
Thank you for such a productive, positive, and energizing meeting!

None of it.

Food places were a little noisy to have conversation.
Timing for Arctic a little short and overwhelming. Don't know if it is possible to hold them earlier? Maybe with 2 years ago parcticipants sharing so we'd have more time to prepare?

Can't think of anything. Thank you for everything. I think we were overwhelmed by all the information and enthusiasm that are a part of the program. I am very excited!


Thanks again, everyone!


Contributions by All Attendees. Compiled by Besse Dawson and Stephanie Shipp.


Back to:TEA Information Front Page