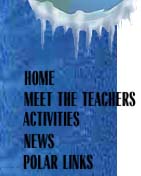 TEA Travel Grants
Support for travel to a limited number of professional meetings is available to TEA parcticipants. The intent of the grants is to encourage parcticipants to present the TEA program to the educational and research community to increase community awareness of TEA. Key to the success of the TEA program is the demonstration of ways to introduce and incorporate TEA in the traditional classroom curriculum.
Grant information:
Up to $600 per meeting per individual (less is fine, too!)
Excludes NSTA National meetings and TEA meetings
Applications may be submitted any time
Submit a 1 page electronic proposal to Ms. Arlyn Bruccoli ()


Proposal MUST Include:
Meeting Name/Society


Meeting Dates
Meeting Location
Target Audience of Meeting
Target Audience of TEA Presentation
Abstract of Presentation Plan (including materials and information to be presented, anticipated impact on the educational and/or research community, etc.).
A copy of the form(s) submitted to the meeting organizers should accompany the proposal via mail.


The Presentation MUST Include:
presentation of TEA goals
presentation of your experience in the field and the science conducted during experience (science content and the process of science)
demonstration of ways to incorporate the TEA program in the classroom, through:
hands-on activities resulting from the TEA experience
display of TEA Website activities and resource pages
presentation of opportunities for classes to follow the upcoming field season parcticipants (Arctic and Antarctic)
provision of the TEA Website address ../


A brief summary report must be submitted with the expense report after the close of the meeting to Arlyn Bruccoli. The summary should include number of people who attended the presentation, audience response, and anticipated follow-through by the audience.