17 December, 2000
Goodbye and Thanks
This concludes a fantastic adventure. I have fulfilled my dream of experiencing Antarctica. As a science teacher, I have had the opportunity to parcticipate in science conducted in a unique and extreme environment. The experiences that I have had and the connections I have made will provide great benefits for me personally and professionally.
I have been here as a parcticipant in the Teachers Experiencing Antarctica and the Arctic Program. TEA is sponsored by the National Science Foundation's Division of Elementary, Secondary and Informal Education in the Directorate of Education and Human Resources and by the Office of Polar Programs. I strongly encourage other educators to explore the opportunities offered by TEA either through the Associates Program or in the Arctic or Antarctic Program.
My appreciation goes to the National Science Foundation, which supports the U.S. Antarctic Program as well as TEA. Special thanks goes to Wayne Sukow of the division of Elementary, Secondary and Informal Education. Wayne provided encouragement and valuable advice. His enthusiasm and insight helped make my Antarctic dream a reality.
I am grateful to Stephanie Shipp for her help and encouragement. Stephanie has done a super job of developing the TEA program, keeping track of all of us, helping with journals and logistics, and providing a pep talk when needed. TEA wouldn't happen without her.
I'd like to thank the Peninsula School District and the administration, staff, and students at Goodman Middle School who have graciously accommodated my absence and supported my adventure.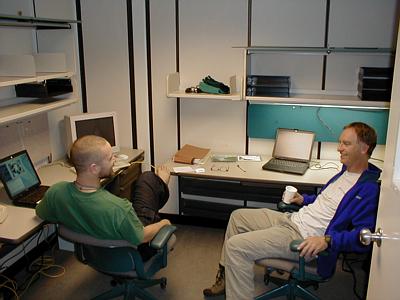 Thanks to Bob Hawley and Gary Clow for taking me under their wing, escorting me to Antarctica, and teaching me about logging on the ice. These guys are an amazing team. They have constantly impressed me with their hard work, commitment to research, and meticulous attention to detail. At the same time they really enjoy their experiences in the field. Gary and Bob have made this a positive and fun learning experience for me. I consider them both mentors and friends.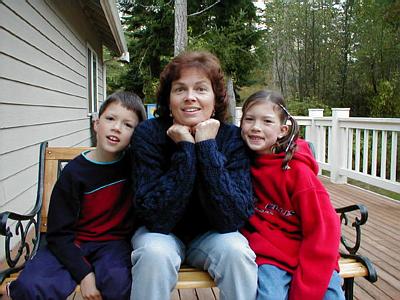 The biggest thank you goes to my home team and greatest supporters, Evan, Denise, and Maureen. Thanks for letting me pursue this dream.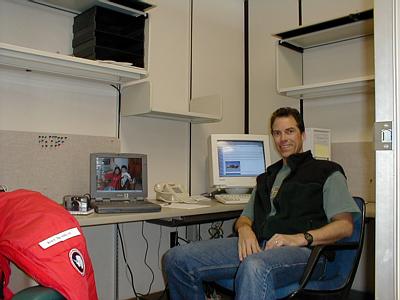 It has been quite an adventure! Thanks to all who came along through my journals and e-mail.
---
Contact the TEA in the field at .
If you cannot connect through your browser, copy the TEA's e-mail address in the "To:" line of your favorite e-mail package.