17 January, 2000
Hello all!
I toured 3 new islands today. Bill Fraser, Donna Patterson, and Erik Chapman were conducting penguin counts, on several islands so I took advangtage of the opportunity to see the sights. Also accompanying us was Doug Quin and Steve Dunbar. They were recording bird sounds on the islands. Another boat carried the media crew, Charles Petit, Jim LaScalzo, and Gary Braasch.
The first stop was Humble Island. Already a familiar place to me, I saw penguins that I was actually able to recognize! Their individual behavior is very distinct when you pay attention. I am amazed at how fast the chicks are developing. They are forming obvious creshes. This is when the chicks group themselves together....similar to a nursery. It won't be long until they fledge.
The jewel of this gathering of islands is definitely, Dream Island. It is about 5 or 6 miles from station. It is located 64°44'S, 57°48'W. I read in a book titled, Geographic Names of the Antarctic, where it says Dream Island is so named "because among the island's natural features are a cave and, in summer, a small waterfall, with mossy patches of grass." Sound like paradise? Well it could have been. Not only is it a beautiful peaceful island with clear water pools etched into the shore, but it is habitat to approximately 300 pairs of chinstrap penguins. These birds were amazing. Very regal in appearance and quite photogenic. Doug and Steve got some wonderful sound recordings of their calls to one another.
After a relaxing lunch on a rock cliff overlooking the ocean, we parted company. I stayed with Bill's group; the photographers went off to pursue other sites, and Doug and Steve, pursued other sounds as well. We visited Cristine Island to do a quick Adelie penguin censor. Data is recorded on the number of adult penguins, occupied nests, chicks, and creshes. Next stop, Cormorant Island, so named because it was once a nesting site for as many as 1000 pairs of Cormorants, or blue-eyed shags. In January 1989, an the Argentine resupply ship, Bahia Paraiso, sank in the vicinity of Palmer Station. Approximately 600,000 liters of diesel fuel spilled into the waters causing devastating results to several islands. The Cormorant population has not been able to recover. Now there are only a fraction of these birds found on Cormorant Island. It is feared that in a few years they may be locally extinct.
Once the penguins and Cormorants were counted, and the chick from a pair of renegade skuas was weighed and measured, it was time to return to station. What a wonderful experience today was. I don't think I will ever get used to the wonder and beauty of this place.
Until tomorrow...
Mimi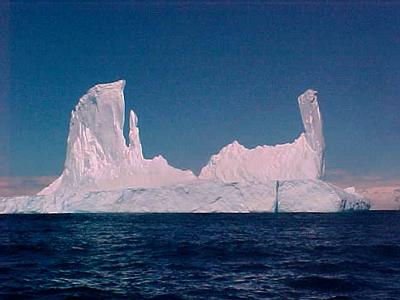 A striking iceberg off the coast of Dream Island.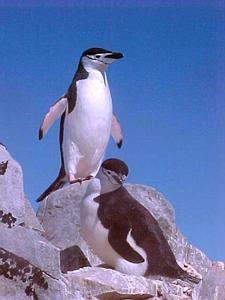 Regal looking chinstraps.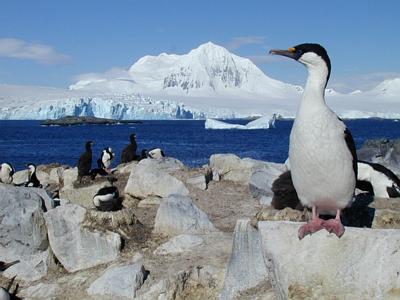 Another stunning photo of a blue-eyed shag.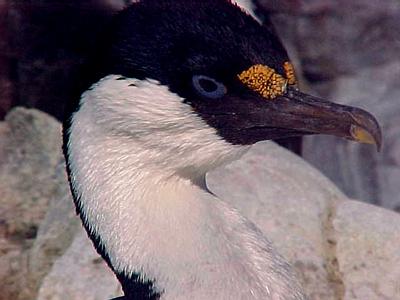 Close up of a Cormorant.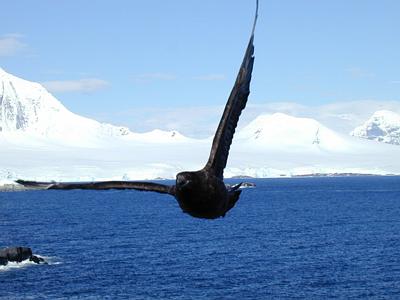 While Donna was weighing the skua chick, Bill had to divert this angry parent. Photo by Donna Patterson.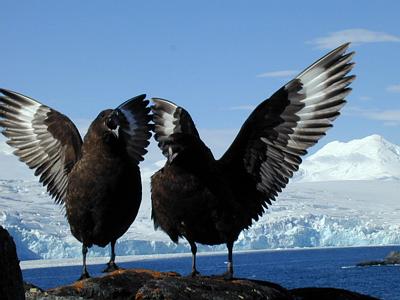 Great photo of a pair of brown squas displaying their wings. Photo by Donna Patterson.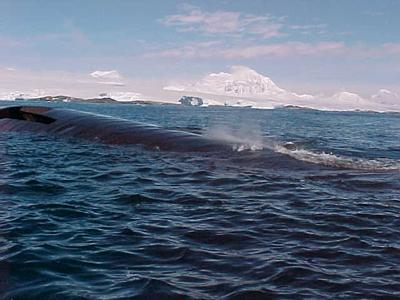 The Bahia Paraiso, or what remains of it, 10 years after is was shipwrecked.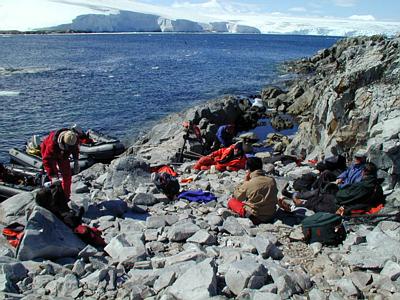 Lunch time at Dream Island. Photo by Donna Patterson.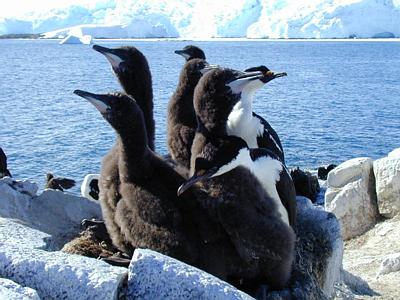 The small nest manages to hold a group of chicks and adult Cormorant. I was shocked at the size of these chicks. Many of them are as large as the adults.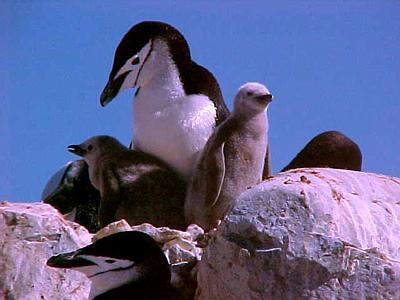 Chinstrap penguin with chicks.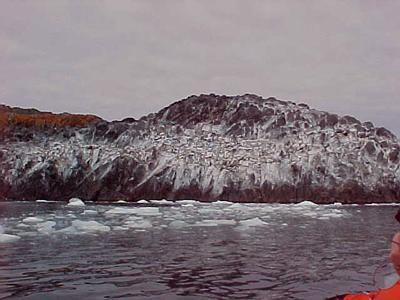 Over 1000 pairs of Cormorants once nested at this site. The white streaks on the rocks are evidence of their past presence here.
---
Contact the TEA in the field at .
If you cannot connect through your browser, copy the TEA's e-mail address in the "To:" line of your favorite e-mail package.