27 January, 2000
Greetings!
This is the last day at Palmer Station for me. I have spent the morning packing up my belongings and cleaning up my lab area. The
bags will be moved this afternoon, and that's that! I have had the most wonderful adventure here. I hope I was able to convey with some degree of clarity what science was going on down here, what life is like for the many people that sacrifice invaluable time with family and friends, and what the magical allure is of the West Antarctic Peninsula. I count myself among the lucky ones for several reasons. For me to be able to share this experience has been unbelievably fulfilling. I was not sure I would be able to pull it off. Even still, I am not sure I did. To share this with students,family and friends, and the community at large has had far reaching effects. The dividends of which are still to come. I count myself lucky to be
among the great explorers who first set out to discover this vast continent of ice. My stay here was an exploration in it's own merit. Not only did I explore the obvious natural wonders of Antarctica, but the less celebrate, yet equally important nuances of Antarctica as well.
My role as teacher has forever been impacted by my exposure to interesting and innovative science research. The nature of science being done here is fascinating. The commitment and dedication of the science teams and support staff are second to none. Listening to scientists discuss their work on climate change and it's effect on
the Antarctic system, bird ecology, ultra violet effects on bacteria, infrasound soundwave monitoring as one step in maintaining compliance with nuclear testing; are all topics that appeal to and effect each
of us. As a teacher, it has given me a plethora of ideas to infuse polar science into the classroom.
I have also been greatly influenced and impressed by the non-science components as well. The job of the photographer and writer is not an easy one. I observed Gary Braasch spend countless hours pouring over books and journals, researching the wildlife in this area and looking for clues about Palmer's historical past. I was fortunate to take several outings with Doug Quin and Steve Dunbar as they meticulously searched for the sounds that represent the ecological flavor of
Palmer Station. A daunting task! The acoustical gift Doug will produce will be a true treasure. Everyone's work and play was made easier by the wonderful ASA staff. Bob Farrell, Palmer Station manager, has the gift of creating a community/working culture that is both inviting and productive. A day has not gone by that I am not reminded of the wealth of talent, artistically and intellectually, found here at the bottom of the world.
No nation owns Antarctica. The Antarctic Treaty, enforced in 1961, was designed to encourage scientific investigation and promote international cooperation. It is a noble example of science endeavors promoting peace. I am honored to be a part of such company.
This afternoon I took one last ride out to Old Palmer with Doug Quin and Steve Dunbar. They will forever be the "sound guys" in my mind!
We rode out to Old Palmer by way of an familiar iceberg we had seen off of Dream Island some 5 or so miles away. The iceberg had moved towards Palmer at a steady pace and now it was in clear view of the station. We circumnavigated the familiar ice beast; little about it had changed. It was still massive, enormous and impressive. It was somehow fitting that this would be the last big iceberg I would see
at Palmer. We spun off and went to Old Palmer to view a wonderful ice cave. Doug and Steve had been there numerous times before, as they found wonderful sounds within to record. I had to piggy back on Steve's back to get through the first 6 feet or so because the ice floor had melted deeper than my boots would allow. Once inside I was speechless. It was indeed a cave. A bright, shiny, cool ice cave.
It meandered around for about 200 meters. Light passed through the ice ceiling with interesting shades of blue and white. The underneath side of what looked like moss could be see growing in the ceiling. Beautiful crystals and elegant icicles adorned the cave. I drank from a stream of melting ice as it fell through the ceiling. What an sensational place this was. A wonderful way to end an unforgettable journey. On the way back to Palmer, Doug and Steve wanted to sit for one more moment in their favorite recording spot in Arthur Harbor. They recorded memorable glacier calving at this spot. We puttered in to the still cove and sat quietly, waiting and listening for the unstable ice to fall. It cracked and popped; we held our breath as a small piece calved off, but no ice drama today.
I board the Laurence M. Gould this evening. I will still continue the journal updates while I sail across to Punta Arenas, Chile.
After a couple of weeks traveling in South America with my husband, I will return back to my life and my classroom in El Paso,TX, forever changed.
Until tomorrow...
-Mimi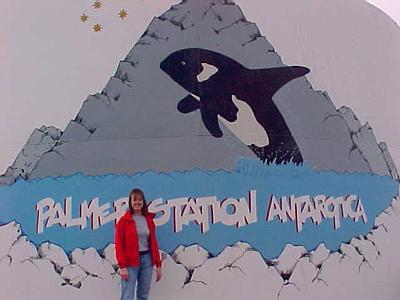 Goodbye Palmer Station.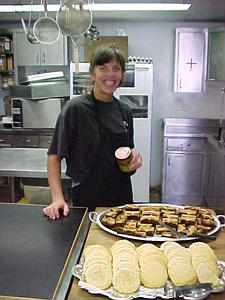 Sue Deyoe, one of the talented culinary artists at Palmer. She will have jewels in her crown someday!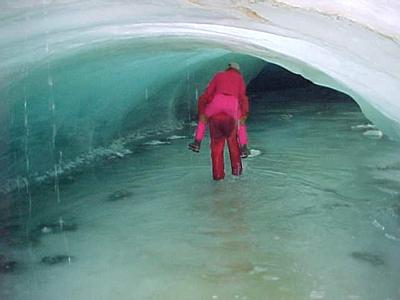 I am being toted by Steve Dunbar! The water was too deep right at the entrance!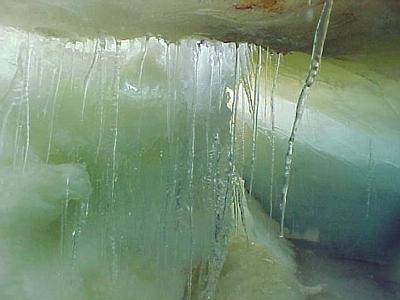 Long elegant icicles from the ice cave.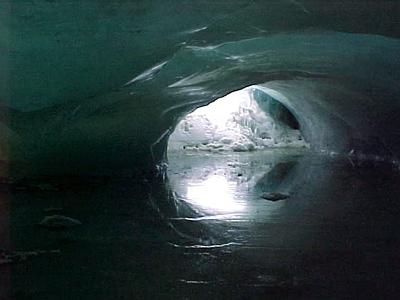 The entrance to the ice cave is seen in the background.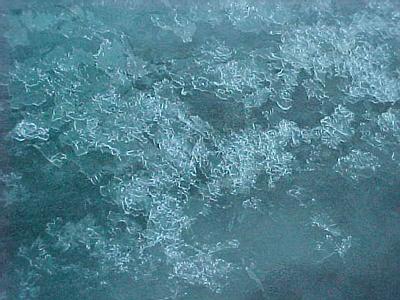 Delicate ice crystals formed along the floor of the cave.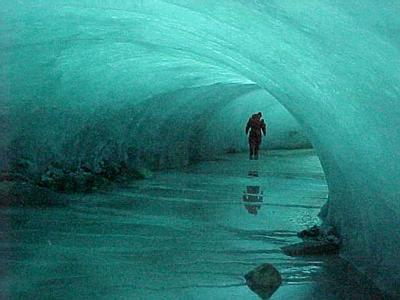 Winding tunnel pathway.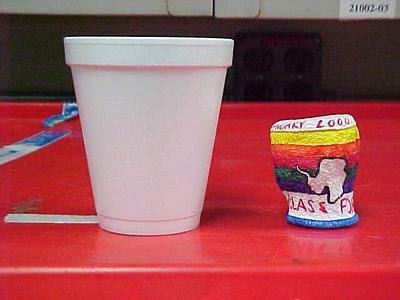 I am sending this picture from the station to make sure it gets posted. It is a coffee cup shrunk due to high pressure. I will tell you about it tomorrow.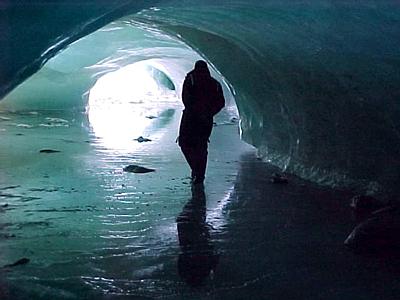 Striking image of Steve heading towards the cave opening.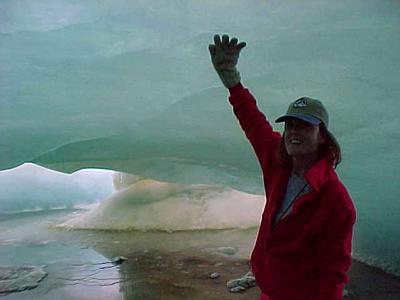 I can't believe this place...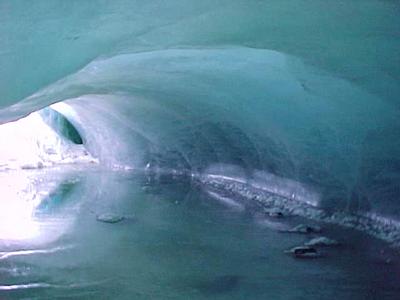 Long corridor of the ice cave.
---
Contact the TEA in the field at .
If you cannot connect through your browser, copy the TEA's e-mail address in the "To:" line of your favorite e-mail package.