17 November, 2002
Another glorious Sunday in Antarctica.
Date: 11/17/02
Time of Obseravtion: 16:00
Latitude: 77 degrees 51 minutes South
Longitude: 166 degrees 40 minutes East
Temperature: -06 C / +21F
Wind speed: 9 knots
Wind Chill: -15 C / +04 F
Wind direction: Northwest
Meters of ice collected: 0
Other data from this site:
Notes on daily Life:
Once again the weather has cooperated on a Sunday afternoon to make for some excellent recreational opportunities. We are now scheduled to depart on Tuesday. So after a meeting this morning where we reviewed logistics and plans, the team set out in all directions to enjoy the day. Some are hiking "Ob Hill" while others are skiing, walking the snow route to Scott Base or skiing the Castle rock loop. This is a healthy crowd; everyone seems to fit some sort of exercise or conditioning routine into their days here on the ice. It makes sense to keep in shape for the long days in the field. These days demand strength, endurance and fortitude in order to withstand the wind and cold. Many of the team members have amazing expeditions to foreign lands and extreme places in their resumes. These experiences add to the overall knowledge and comfort level of the group as we enter what I hope will be our final days of preparation for our departure into to deep field of Antarctica. Here is a quick summary of the some of the groupís highlights in the mountains and on the glaciers in pursuit of their field science research.
Paul, our expedition leader, first came to Antarctica thirty four years ago. In his early expeditions they often walked or snowmobiled theyíre way across the snow, pulling wooden "Nansen" sleds behind them. In those days his expeditions lasted as many as 100 days in the field, twice number of days of our expedition. Markus has skied in some pretty incredible terriority in the Andes Mountains while conducting research on the ice of the Peruvian Glaciers and on Volcanoes in Mexico. Eric Steig has skied and hiked in the high peaks of British Columbia. He also spent several months on Baffin Island collecting deep lake sediments. This is his 7th season in Antarctica and he has been to Summit , Greenland twice. Blue Spikes has some of the most interesting stories and experiences to share. He has been "all over the place" in Antarctica including Vostok, the Russianís ice coring site, where he was in an airplane (called a herc) that ran off the end of the runway and did a full 360 degree spin. He has also had the experience of falling in and getting out of crevasses on several occasions while conducting his geophysical research. Susan, being a native of Colorado, comes with extensive mountaineering and backcountry skiing experience. She was also a Forest Ranger, complete with the little olive green outfit including a hat! She has been to Alaska and the Andes. Mark Wumkes, our chief drilling expert is from Fairbanks, Alaska. He has canoed from Minnesota to Alaska. He is also a multiyear veteran of Antarctica and Greenland. Others have been on Russian research vessels in the Arctic, dug in Dinosaur pits in Wyoming, flown, in helicopters in Alaska and Antarctica.
This collective knowledge and number of days in the field gives us the confidence to roll with the setbacks and struggles of doing science in such difficult conditions. The physical conditioning prevents fatigue from clouding our minds while working for as many as 16 hours a day and sometimes for 72 hours without stopping. I am excited to be with this group this year, and look forward to getting our expedition underway. I hope that there will be time while we are travelling to hear more of these veteransí stories from their lives as "old Antarctic explorers".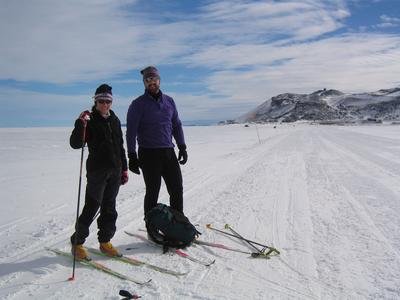 Betsy and Brian on the Ice shelf near Scott Base.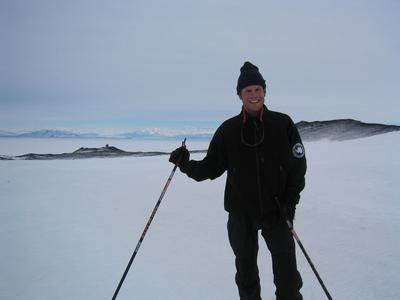 Markus on the Castle Rock ski loop. You can see the Transantarctic Mountians in the distance, they are about 60 miles (100km) away! This loop takes about 2 hours to run or ski and gives you a 360 degree panorama of the Ross Ice Shelf Region.
---
Contact the TEA in the field at .
If you cannot connect through your browser, copy the TEA's e-mail address in the "To:" line of your favorite e-mail package.