8 November, 2002
Finding our way around McMurdo Station.
Date: 11/8/02
Latitude: 77 degrees 51 minutes South
Longitude: 166 degrees 40 minutes East
Temperature: -11 C / + 12 F
Wind speed: 35 knots
Wind Chill: -36 C/ -33 F
Wind direction: South
Meters of ice collected: 0
Our major task at this time is preparing our equipment for the field. In order to do this seemingly straightforward task; many people must be involved. For today's journal entry I will take you on a tour of the people and places we have visited while setting up the equipment needed for the collecting ice core and atmospheric data. A day like today can begin to feel like a large scavenger hunt. As I hiked from building to building I enjoyed meeting the many helpful people of McMurdo station. Without their support accomplishing our science objectives would be much more difficult. Here are a few of the people and places we went today in our work.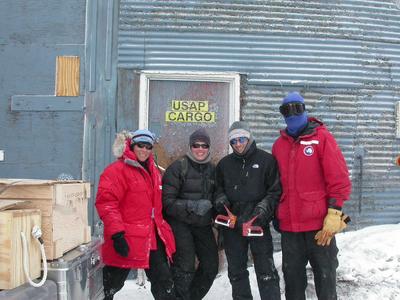 First the cargo must arrive and be checked in at science cargo. At this stop each piece is given a tracking number which is stored in an enormous database. The science cargo packed in boxes of various shapes and sizes is tracked by weight, cubic area and description. Once the cargo has a tracking number it is stored on the cargo line if it can be frozen or in a warehouse if it needs to be kept warm. We have cargo stored in both areas.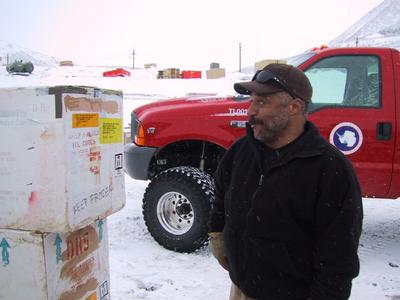 Michael assisted us in finding our cargo and having it delivered to the labs. We spent the bulk of this whole week finding and working with cargo. We have quite a bit of it here and it all must be labeled properly in order that it moves with us on our journey.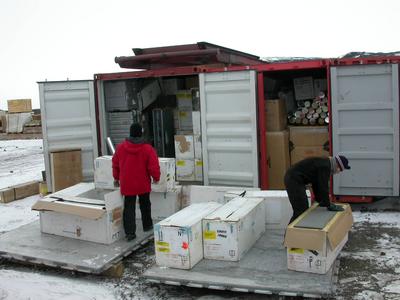 Susan, Dan and Jim spent yesterday organizing our ice core boxes that are to be shipped to the South Pole to await our ice core at that site.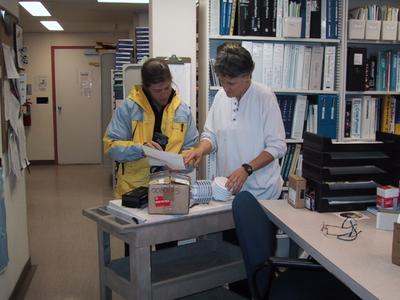 Other supplies that we will need for our science experiments are kept in a storeroom in the Crary Lab. In order to use these supplies they must be reserved and checked out. In this photo, Peggy Malloy and I are checking the list of equipment we are borrowing from this storeroom.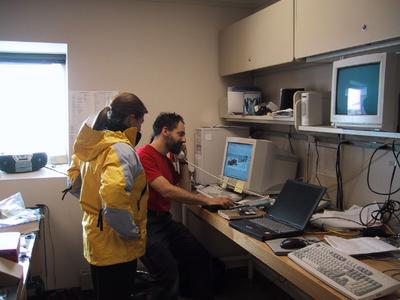 Always essential in science are computers and network capabilities. To assist us in setting up our computers for the McMurdo network I visited with Robbie Liben in the technology lab. Robbie set up our computers to talk with the McMurdo network and to print.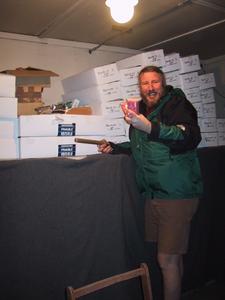 We will need many large balloons for launching our ozone measurement devices. So my next stop was McMurdo Meteorology where I was able to secure several more balloons for our use. Helium for the balloons will come from another source altogether, so it was yet another trip across MacTown to find the helium depot. Tomorrow I will have a chance to help with the regular meteorology balloon launch here at McMurdo. The weather has turned stormy and so the rest of our team is delayed in Christchurch for 3 days. We are now hoping to see them on Monday, if the weather improves.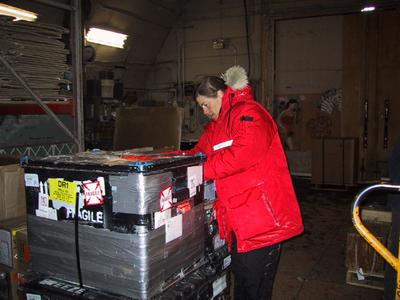 In the cargo warehouse with one of our many!(several hundred) pieces of cargo.
---
Contact the TEA in the field at .
If you cannot connect through your browser, copy the TEA's e-mail address in the "To:" line of your favorite e-mail package.