30 July, 2001
The Healy!
Today I got my first glimpse of my 10-story floating home. I was transported from Tromso to the USCGC Healy, and oh what a ship! I boarded with all of my bags and was shown to my room. I met my roommate--Debbie Hassler. "Doctor" Debbie has a PhD in Marine Geology/Geochemistry. She is going to be a great roommate whom I will learn MUCH from.
Our room is a good-sized room with bunk beds, a couch, a sink, 2 desks, 2 file cabinets, and 3 lockers. The bathroom is between our room and the room next door. It has a small shower and commode. I think it will be quite comfortable.
After unloading my gear, I attempted to find my way around the ship. The first obstacle was trying to open the doors between each "wing". This is no cruise ship! Heavy metal doors that must be opened and closed by a huge handle separate each section of the ship. The doors weigh more than me! This, of course, is for safety. Besides safety, things here were built to stay down. When the ship gets rocking, things can fly! Therefore EVERYTHING (including the desk chair that I'm sitting in) is either extremely heavy or latches shut.
I managed to find my way into the mess hall (food!), the gym, and the laundry room and back to my room without straining a muscle or getting lost. I was proud of myself, especially because everything looks the same to me at this point. And the stairs-incredibly steep and narrow! . Tomorrow I will explore some more and prepare for departure. The 24 hours of sunlight should come in handy then because the Healy departs at midnight. We will have a great view as we leave Norway and head for the open waters of the Arctic Ocean.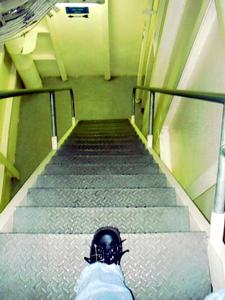 The stairs are steep and narrow. They should be good exercise!
---
Contact the TEA in the field at .
If you cannot connect through your browser, copy the TEA's e-mail address in the "To:" line of your favorite e-mail package.