31 July, 2001
Our last day on land
Today was spent in a mad rush trying to get last minute things for the trip-like chocolate, chocolate, and candy. After errands, we were invited aboard the German icebreaker the Polarstern. This icebreaker will be joining us in collecting data from Gakkel Ridge-a true international mission.
The German crew welcomed us on board and held a reception where we were able to meet their scientists and discuss the mission. One of their scientists invited me to board their ship once we are on the ice and spend time interacting with their scientists. I would do this by helicopter-we have 2 on the Healy and they have 2 on the Polarstern. I hope that this will happen.
Around 10:00pm tonight I took a seasickness pill (just in case) and placed everything that was loose in a drawer in preparation for our departure. Then, around midnight, it was time to pull away from the dock. A tugboat appeared, pushed us into open waters, and we were off. We are all hoping for a smooth ride!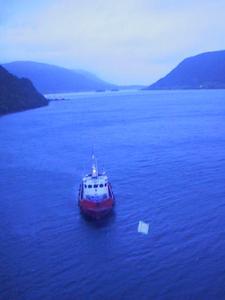 The tug boat moves us into the open waters. Goodbye, Norway!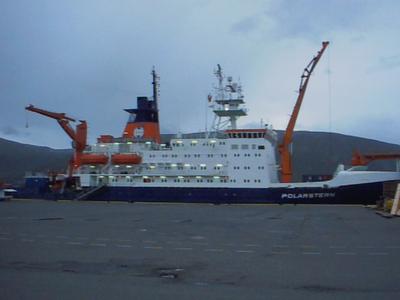 The German icebreaker--Polarstern. We will be seeing a lot of her over = the next few months.
---
Contact the TEA in the field at .
If you cannot connect through your browser, copy the TEA's e-mail address in the "To:" line of your favorite e-mail package.