3 September, 2001
September 3, 2001
Where in the World Are We?
Today as Labor Day is being celebrated back home, the scientists aboard the Healy continue to labor away. However, a 2-day "holiday" is being planned for us.
We have reached the location on our expedition where our efforts will focus on map-making instead of dredging. We will be cooperating with the Polarstern for the next 5 days in order to map an area between Gakkel Ridge and another ridge called Lomonosov Ridge. Once we complete this mission, we will return back along Gakkel Ridge and resume our dredging operations. During this 5-day mapping period, we will have 2 days to relax and enjoy ourselves away from the rocks.
So where in the world are we? If you were to look on a map of the world, the chances are that you wouldn't be able to see where we are. Most world maps show a view of the world that excludes the northern polar region. Since this isolated place has no landmasses, its importance on a world map seems to be reduced. If you want an idea of where we are, we are at latitude of almost 87*N-just several hundred miles from the North Pole (90* N). Our longitude is near 72* E. If you were to travel due south along this longitude, you would encounter Russia, Pakistan, and India. We are obviously halfway around the world!
Just a reminder that if you would like to track our progress more closely or find out more about our expedition, log onto the Healy website at <http://www.uscg.mil/pacarea/healy>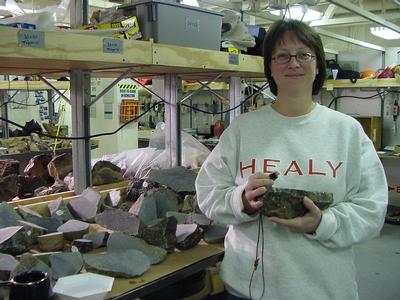 <> Dr. Debbie Hassler is hard at work on the rocks. There are many to be processed before our 2-day vacation!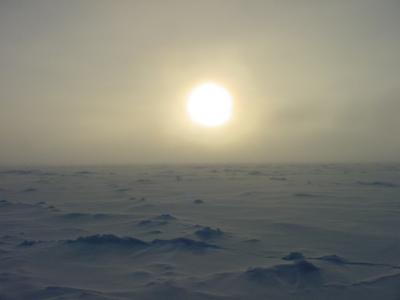 <> The glow of the sun in the Arctic.
---
Contact the TEA in the field at .
If you cannot connect through your browser, copy the TEA's e-mail address in the "To:" line of your favorite e-mail package.