8 September, 2001
September 8, 2001
Another Saturday Night
Today was a "back to work day", and reporting at 5:30am was difficult. Once I got in the groove, though, it was quite a good day.
It's once again a Saturday, so this evening was "Morale Night". Morale night always involves a special dinner. Each week, a different group is assigned to the evening meal and normally they make pizza. But tonight's group decided to be creative and declared it "Bubba Gump's Shrimp Night". These hard-working cooks started to prepare tonight's dinner yesterday and had the whole ship smelling fishy. It was worth it, though, because there were numerous types of shrimp for dinner! They decorated the mess deck and had "Forrest Gump" playing to set the mood. They even dressed the part! Afterwards it was Saturday Night Bingo as usual.
Morale-keeping your spirits up-- is an important part of life. When you are at sea for long periods of time, having enjoyable experiences to look forward to helps the time to pass quickly. For most of the Coast Guard crew on board, life here on the Healy began on June 12 when the ship left Seattle, WA in route to Tromso, Norway. Their journey took them from Seattle through the Panama Canal and up to Tromso with port calls along the way in Costa Rica and England. When they finally arrived in Tromso the last week of July, there were 20 eager scientists waiting to board. We've been traveling in the Arctic ever since. When the Healy returns to Tromso the first week of October, the 20 scientists will disembark and fly home, but the crew has more travel in the Arctic before a long journey back to Seattle. Along the way they will stop in ports in the Netherlands and Portugal. They will be quite well traveled upon their retune to Seattle on December 21!
The "Morale Committee" meets weekly to plan activities. Besides dinners and BINGO, the activities have included card tournaments, beard-growing contests, movies in the fight hanger, and soon a pudding-eating contest will occur.
Life is what you make it, so the crew takes opportunities to make it interesting and entertaining. I have enjoyed this aspect of ship life very much so far, and I look forward to more upcoming morale events.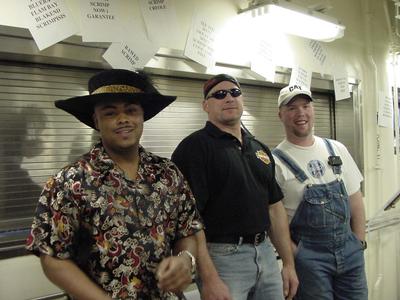 <> These 3 crewmembers make a mean shrimp gumbo! They took the opportunity on morale night to put aside their uniforms for more comfortable attire.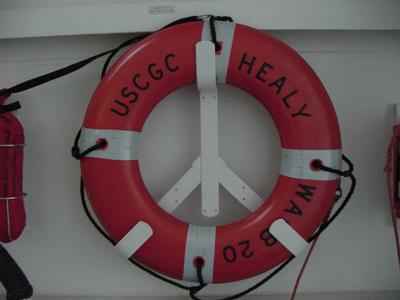 <> The USCGC Healy will be "home" for many crewmembers for over 6 months.
---
Contact the TEA in the field at .
If you cannot connect through your browser, copy the TEA's e-mail address in the "To:" line of your favorite e-mail package.