15 November, 1999
Monday, November 15, 1999
Got up about 0500 hours and went over to our office. We, Barb and I are part of the LTER team (Long Term Ecological Research project) and therefore may use the office. I set up my computer and Barb arrived about 0800. We chatted a little about our opening class tonight and then a young lady stuck her head in the door and yelled hi. It was Kathy Welch. Kathy will be our POC (point of contact) for our work with LTER. She shared with us her excitement that we are here and we did the same. She was concerned over some of the "lack of clarity" about our project and that from now on we would work through her. Sounds good to me.
Kathy expressed real interest at getting us in to the Dry Valleys ASAP,. That's great so do we; but, we have our program for the next three weeks. She had wanted to have us in the Dry Valley for Thanksgiving, but since we have a class that night and Friday night it does not seem possible We left it that she would like us to go to the Valleys for the day on Wednesday the 24th. That would be awesome, but for now oh too many variables. We shall see.
Barb and I then worked on our class for tonight. We have been over it 20 times if we've been over it once. I am really apprehensive. It just has to go well, there is too much riding on this for it not to.
Barb went to dinner; but I decided I had best review more for my part of the presentation. The plan was to meet Barb at 1830 hours in the LTER office and go up stairs to class. When Barb did not return by 1835 hours I went up stairs. The room was set up and people started to come in, but with one problem, security had not unlocked the front door as they were suppose to have done, and the parcticipants were literally having to tap on the window to get some one's attention to let them in. When Barb showed up I shared the problem of the door with her and told here I would go to the door and become the official greeter. By 1910 hours no one new was coming in. I returned to the classroom and the people were all chatting in a very congenial manner. We had 16 parcticipants, four others had been hurt, or sick, or out in the field and we had four no shows.
The class went extremely well. I have never seen such an enthusiastic group of people in my life. They want to share their experiences with the kids. The mixture is amazing. We have cooks, fire fighters, janitors, sheet metal works, journalist and the list goes on. The backgrounds are just as amazing,. We have people whom just graduated high school, college and some with Ph.D.s. We have people who never have sent email to any one other then their families and others who communicate regularly with a couple of hundred kids. What a crew! We only have two people with a scientific background so we will have to include more science stuff in our workshops.
Our real problems lie in the area of logistics. First, many of these people's schedules change on a moment notice, so we will work with them literally whenever they are available. The other problem is getting access to computers. As I understand it, ASA people other then in the work place (and we cannot allow this project too interfere with their work schedules all) have access to only 10 public computers. Wow that's about an 8:1 ratio, people to computers. We must not lose track of where we are and we must (at least I must) remember that the last time I was here, 8 years ago, there was this new, sort of kept somewhat secret, or at least unavailable to the general public, thing called email. Boy have times changed. We will work out the kinks. We have to.
We worked with some people until 2230 hours and then Barb and I decided to take a walk on the ice runway. The weather was gorgeous except that the wind had come up and the bottom was falling out of the thermometer, so we agreed to meet back at the lab after we put on our ECW.
While I was getting my gear I grabbed all my cameras and "Flat Fedora". For those of you who do not know who Flat Fedora is allow me to explain. There is a children's story about a boy named Stanley who has a poster board fall on him and it makes him as flat as a pancake. Stanely wants to travel and now can because he can be sent by mail or he can be carried in luggage around the world by various travelers. Flat Fedora is a cutout of a young girl from the Woodrow Wilson Elementary School in Framingham, Massachusetts. Her name is Fedora Bartelier, she is 10 years old and I am told she an Afro-American with Creole/Cajun French as her "first" language. I was contacted by her teacher, a lady whose two daughters I had in my classes at Holliston High School and was asked if I would be willing to bring Flat Fedora to the bottom of the world. No problem!! I hope you all enjoy seeing Fedora "hanging onto", actually I had no tape so put a little water on her and froze her to the entering McMurdo Station, Antarctica sign.
Fedora, I hope you enjoy seeing this and I look forward to coming to your school and meeting with you and your classmates personally and maybe sharing some of my slides and stories with you and your friends. Enjoy from the bottom of the world.
Barb and I walked about 2 miles out on the runway road, 2/3 of the total distance to the runway, and turned around and came back. Going out we walked into the sun. (Remember the sun simply travels in counterclockwise circle over Antarctica, it won't set here again until February 27, 2000.) The fact that we were walking into the sun prevented our breath from freezing on our goggle, believe me as soon as we turned our backs to the sun our goggles became encrusted with ice.
The scenery on the way back was amazing. I hope you enjoy this picture of Mt. Erebus hovering over McMurdo Station.
Once we returned from the blue ice runway, Barb went "home" and I went to "midrats" (mid-night rations). This is the first time I have had a chance to eat all day. The food here is too good. I feel like I am turning into a "cow-asaurus". I sat with a cook, who it turns out lives in Providence , RI, about 13 miles from my home. It is a small world Charlie Brown. I left the galley about 0130 hours and decided to show you what our hospital looks like at 1:30 in the AM.. Check out the picture.
When I got back to my room I found I had a roommate, but he was not there. I left him a welcome note and a can of soda and went to bed. He showed up around 0230 hours and I woke just enough to say hi and find out that he was leaving in the morning for South Pole Station where he would be working on the CARA project.
Hello, good luck, good bye.
Ciao,
Penguin Pete the polar Man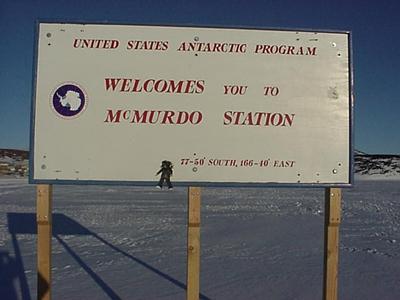 Here is "Flat Fedora" hanging around the entrance to McMurdo Station, Anarctica. Photo by Peter M. Amati, Jr. <>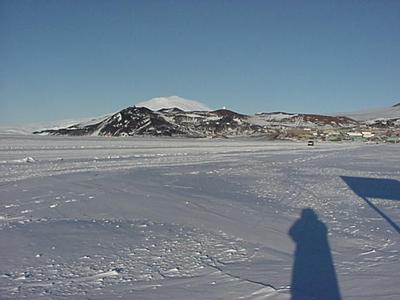 Mount Erebus from the airport road in McMurdo Sattion, Antarctica. Photo by Peter . Amati, Jr. <>
---
Contact the TEA in the field at .
If you cannot connect through your browser, copy the TEA's e-mail address in the "To:" line of your favorite e-mail package.