17 November, 1999
Wednesday November 17, 1999
Got up late, about 0700 hours. I won't do that again. Lost as screw from my eyeglass frame. Great! I did bring and old pair as a backup. I went over to Crary and ran into PJ Carpenter one of the ASA computer persons who has spent several years wintering over here and at the Pole. He started a serious time search for a screw. We went places I never thought I would get a chance to see such as the holding tanks for fishes that are being studies by the Dr. Arthur De Vries' team. This team is looking at the "antifreeze" molecules that Antarctic fishes produce to prevent their blood from freezing". More on this another day.
We ended up cannibalizing , that is using the screw from my old glasses and putting it in my new ones. It worked, but, I must now find a way to fix the other pair.
I met with Barbara and she decided that today was the day she wanted to work on the computer. I went up stairs to where I could type and print. It was a real long day, I left the lab about 01700.
We have a presentation to give tonight, a whopping five-minute "quickie", trying to explain why we are here. Five whole minutes does not give us much time, so we must get our point about science out-reach across in a hurry. We were given exactly five-minutes and I do feel we get our point across. Only time will tell.
Barb and I walked over to Gallagher's, a pub, where I had a real greasy, but real great hamburger with a ton of fries. Yum Yum! We stayed about forty minutes then I returned to my room to type.
Cioa,
Penguin Peter the Polar Man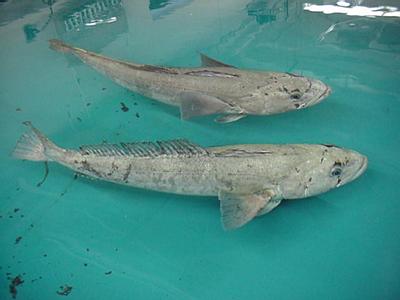 These are two Antarctic Cod fish in a holding tank at th Crary Lab. Photo by Peter M. Amati, Jr. <>

These are assorted Antarctic Echinoderms (starfish). Photo by Peter M. Amati, Jr <>
---
Contact the TEA in the field at .
If you cannot connect through your browser, copy the TEA's e-mail address in the "To:" line of your favorite e-mail package.