20 November, 1999
Saturday November 20, 1999
I set the alarm for 0500 so I could type before I went to work. I had to do two photo shoots for two people in our program. One was scheduled for 0745 hours and the other for 0900 hour. Finding the various places can be difficult because they are all just buildings with numbers on them and some contain a great many departments. Often time's departments that have nothing to do with each other are found in the same location.
It is snowing and quite warm , about 10oF, everything is relative. Yesterday, where the sun hit the dark volcanic soil the snow and ice melted a little. I never expected that, but, I am told here, as we approach summer this happens fairly often.
I straightened up my gear this AM and finally met Barbara around 1100 hours. She wanted to now if I still wanted to walk the Cape Armitage loop, a hike that takes you out onto the sea ice and around Observation Hill, around Cape Armitage to Scott Base. Sure!
We left at 1230 hours and it was fairly mild and calm, by the time we had gone about a mile the wind was whipping in our face at about 35 mph. Thank goodness it was not real cold. We walked the entire route over to Scott Base about ???? miles. As we approached the Kiwi base the ice had already developed large cracks in it. The pressure of the ice starting to heave back and forth (nothing you could feel) caused these cracks and very rough and fairly large, but extremely beautiful, pressure ridges of blue ice the glittered in the sunlight.
When we got to Scott base we went to the station store. They had everything from candy bars to hand held computers. Pretty wild. We hitched a ride with a courier, for neither of us felt like walking the1.7 miles back to McMurdo by road. We wanted less to walk back by way of the sea ice, for unless the wind shifted (which it does on a moments notice) it would have been blowing into our faces for about 3/4 of the distance home.
I treated myself to a shower and got to the compute lab about 1730 and stayed there until 1200 then I went to midrats. It is now 1240 hours on Sunday the 21st and I am real tired so I guess I'll turn in. Tomorrow is another day. Good night.
Penguin Peter the Polar Man.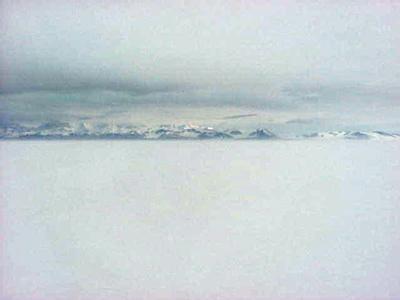 Mount Aurora and Minna Bluff as we satrted our walk to Scott Base. Photo by Peter M. Amati, Jr. <> Same view of Mount Aurora and Minna Bluff; but 15 minutes, and one whitout later. <> Photo by Peter M. Amati, Jr.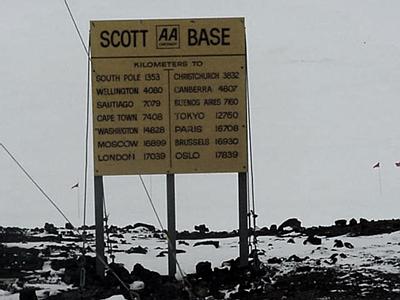 This is a sign at Scott Base, the Kiwi's version to McMurdo Sound. Photo by Peter M. Amati, Jr. <>
---
Contact the TEA in the field at .
If you cannot connect through your browser, copy the TEA's e-mail address in the "To:" line of your favorite e-mail package.