19 November, 1999
Friday November 19, 1999
Got up about 0500 hours and had to do laundry. I had brought the computer back to my room so I could work while I washed and dried my rather smelly clothes. They were pretty ripe. How ripe you ask? Well, a couple of the socks walked from my room to the laundry by themselves. Now that's ripe. Anyone want to explain why socks get very rank parcticularly in bunny (hint vapor barrier) boots.
With all that said and done I got to the lab around 0915 and met Kathy Welch. She told me that she would like to fill out our helicopter request form today so we would have to get the weights of all the gear (including us) we would fly with on next Wednesday. The plan was to meet he back at the LTER lab at 1400 hours. I answered email and wrote until 1300 then returned to my room to get all my ECW gear and, put on part of it and carry the rest in my drag bag.
I returned to Crary and went with Kathy to get weighed. Me, all my cameras, normal street clothes, hat, goggles, parka and gloves was 99.9 kg. The drag bag with the rest of the ECW was 11.3 kg. Boy if I really wanted to know just how chubby Penguin Pete was I could figure that out by using my conversion factor and then looking back in his journals to see how much the ECW weighed. Remember that mass stays the same unless I add something or take something-away (Law of Conservation of Mass).
Kathy and Barb and I went up to the staging area for all filed parties. This is where you'll find all the stuff you requested for your field station.
We checked through our general stuff and then our personal stuff General stuff:
Pots, rope, generator, power cords, stove, large and small first aide kits, wrenches, stakes, sledge hammer, binoculars, day field packs, thermos bottles, P-urine bottle, different types of tape, black and gray water containers, food boxes, sleep kits and tents.
Personal stuff: tent - four poles, bottom and top; sleep kit - sleeping bag, bag liner, pillow, air mattress pad, and thin-sulate pad. Packing and putting my name on this stuff hopefully means that the Dry Valleys will soon become a reality. I can't wait. There are a number of prizes; places to go to on the ice, the top two are the South Pole and Dry Valleys second. Wow!
After this I went to the hospital for I learned that they have a large collection of eyeglass screws. The people, as has been the case everywhere I have been since I left the states, were most friendly and most helpful. The military nurse who helped me turned out to be from Oneonta, NY and went to Hartwick College. That's the same place that Ingrid, my late wife, went to. What a small world.
Came back to the dorm and got my stuff together for class and proceeded to Crary. Class went well and we had a full house. The other nice thing was that they hopefully have figured out our schedule and will continue to keep the door to Crary open at least until on class begins. Steve Arcone did another presentation and we ended p at the computer room. From her I stopped by Gallager's a pub, where Barb and I hooked up with Bess Ward's team, the Kiwi Cargo crew and a couple of others. There were 11 of us. The Kiwis insisted I try a Kiwi beer, my first beer since 1992, It wasn't bad. But made me sleepy. I let, dropped my computer off and went to midrats, the first time I ate today.
Got to bed about 0100 hours.
Later,
Penguin Pete the Polar Man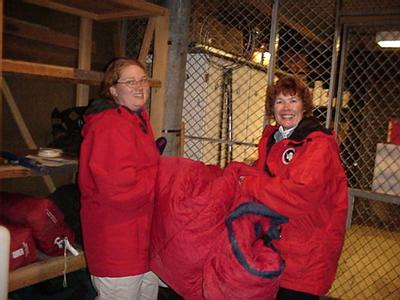 Her are Kathy Welch, the lady that Barb and I will be working for in the Dry Valleys, and Barb Schulz trying to color coordinate their sleeping bags, liners and pillows. As is true form. I think my bag is black, the liner blue and the pillow plaid. Sounds good to me, especially since my butler is not here to help me coordinate my colors. Photo by Peter M. Amati, Jr. <>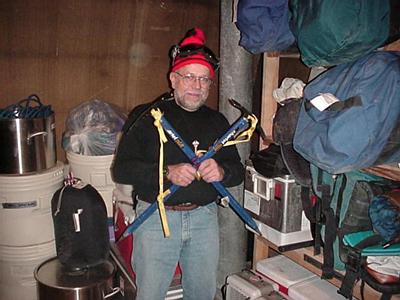 Here I am in the supply center gathering up "stuff" needed to live and work in the field. Photo By Kathy Welch <>
---
Contact the TEA in the field at .
If you cannot connect through your browser, copy the TEA's e-mail address in the "To:" line of your favorite e-mail package.