23 November, 1999
Tuesday November 23, 1999
Good morning its 0710 and I just got up. Wow, almost five long hours of continuous sleep. I love it.
Went to Crary lab to check email. Lots of mail from my children. It is a very difficult time for them and me, for back in the states; it is the two-year anniversary of the passing of my wife. Kind of difficult to sent a hug over the Internet.
Had an 1100-hour meeting with one of our project parcticipants. Could not locate him, but finally did reach him by phone. We agreed to meet tonight at 1800 hours; that would give us an hour to catch up with the material he missed while he was gallivanting off to South Pole. Likely excuse! Boy I wish I could have gone with him.
I decided I needed a break. I called for the sea ice weather report, heard it was to be fine; put on ECW gear and headed off for the sea ice runway. Decided after it started to snow that I would flag down the shuttle. The sea ice runway "aiport" has a series of some ten or 15 buildings: a galley, fire station, terminal, generator, etc. all on skis. This is in case the sea ice was to ever break up. Well, that happens every year and I believe I mentioned this before, but predictions now are that the runway, with all its facilities will be moved sometime before December 10th.
I walked to the tower, which looked like any other airport tower except it was in the middle of sea ice and not really a tower. It was he same shape only very low
.
The equipment here is huge. Bulldozers with blades that had to be 12 - 15 feet wide, front-end loaders with 5' tall wheels. I then walked to the galley where I dined. As I started to walk back to McMurdo, I spotted the Kiwi Cargo Hut. It must be my good friends, but rather nutty, group of Kiwi mates. Sure enough who do I see getting of one of those monstrous machines is Sully. "Hi mate, com in and say hi to the boys."
They were glad to see me and we chatted. They didn't seem busy, but they said that could change quickly. We told jokes and I answered questions, lots centered on what the women in the states were like. (Keep in mind these are all 20 - 29 year old Kiwi soldiers and/or airmen). About 20 minutes after I got there they received a call that a Hercules LC-130 was arriving within the next 15 minutes. Great a chance to see one of these monsters on the ground (ice). The Kiwis deployed to their various machines and positions and I took up a location on the flight line. The Hercules landed, it is truly a big bird. By the time two of the four propellers had stopped, fuel lines had been hooked up to the plane and the Kiwi heavy equipment had begun to bring what had to be loaded onto he plan toward the plane. I was standing back at the edge of the field when Kim Wright, one of the Kiwi loadmasters called me over. "Come with me mate, we'll see the inside of this bird." Wow! Like a kid in a candy shop. I hesitated and told him not to get in trouble on my behalf. "Not a problem mate."
The Hercules is a plane, ski equipped, that fully loaded I think weighs in at 125,000 pounds. The body of the plane has to be 20' wide and maybe forty feet long. I watched them as they loaded on a cargo sledge then I was in for a real treat. This flight was to carry a Tucker, a guardra-tracked all terrain vehicle out to a spot pretty much in the middle of nowhere. The Tucker was backed to the ramp at the backend of the plane, which had a door that for all intents and purposes opened up like the lower jaw of a giant Cetacean. The Tucker was then winced on board until it got pass the opening, then it was started up and backed in the rest of the way and strapped down. . A full plane load in not more the 20 minutes. Unreal!.
As I was heading out of the Hercules I asked on of the navigators, a fellow named Marc, it I could take a picture up the stairs. "Its my flight deck come on up." I climbed about four stair and find myself literally stand behind the pilot and copilot of the transport giant. Wow!. I thanked him and the Kiwis profusely and made my way back to the shuttle.. Upon returning to McTown I gathered up materials for program and wen to the meeting. We had 12 people there tonight ad it was most productive.
Following the meeting I stopped by the LTER office to check on our flight plan.. Manifest read: LTER Welch, Amati and Schulz to Lake Hoare. Wow I am going to finally see the Dry Valleys of Antarctica. This a an honor very very few people have ever had. I am oh so big-time fortunate. I can't believe it. WOW!
On this excited note I will close.
Ciao,
Penguin Pete the Polar Man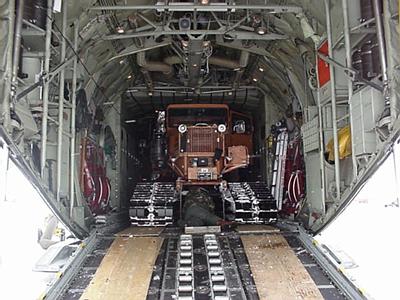 Here the Tucker is "tucked" neatly in the back end of the LC-130. Notice, entire rear end of the plane opens. <> Photo by Peter M. Amati, Jr.
---
Contact the TEA in the field at .
If you cannot connect through your browser, copy the TEA's e-mail address in the "To:" line of your favorite e-mail package.