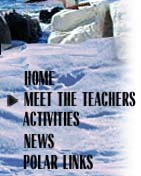 7 November, 1999
Sunday November 7, 1999
About 0300 hours the not so faint call of "wakie wakie, shut off you alarm, close your eyes I'm going to put the light on, the flight has been canceled. Stay in bed, you will not fly today." Wonderful, another day in Christchurch, but at least this time we have a full day to do something. I tossed and turned for about an hour then got up and worked on these journals.
At breakfast we decided, Ethan's idea, to take a tour to Akaroa, a beautiful French whaling depot. The tour was awesome. The countryside in New Zealand is magnificent, I'd even think of retiring here. We stopped at a cheese factory where we sampled and saw how it was made then we went to the seaport. The real nifty part of this tour was for an extra $35 NZ, you could swim with the dolphins. All three of us signed up for this amazing opportunity. When we got to Akaroa we were immediately sent to the town dock where we (a total of nine of us) were fitted with wet suite. It had been a long time since I had been in a wet suite. Suffice to say now I know how a sausage feels when it is put in its casing.
The water was real choppy as we sailed out of Akaroa harbor, the remnants of an ancient volcano's crater. The water was a blueish green and white caps were everywhere. Looking up at the towering walls of varying shades of greens gave me a feeling of being a very small flea on the back of a very large elephant. I was (am) in total awe! I guess we traveled out about 2 miles when we spotted the dolphins. The steps on the back of the boat were lowered and in we went. God the water was cold, even in a wet suite. Not only was it cold, but the waves would off set you balance and as you tried to adjust your snorkel and mask both would fill with water. I began to thing that this was not such a good idea, and thought of raising a clenched fist, the signal for "help get me out of the water". As the suite began to warm and I managed to get my mask and snorkel on the feelings of anxiety ebbed. No sooner was I gaining confidence then a wave pushed me under. Maybe its time to get out of the water? Then the cry of "they are coming towards you" gave me, and I'm sure many of the others, for they seemed to be floundering too, a shot of adrenaline. It was awesome. Four, 1.3 meter long black, gray and white dolphins swimming among the nine snorkelers. They came within two feet of my mask. Unbelievable! We stayed in the water maybe twenty minutes and then they left, but by that time the waves had dispersed the nine of us over a fairly large area. Boy I felt insignificant in this giant harbor. We got back on board and shared stories of how close the dolphins did or did not get. Then we headed to a new spot. We traveled out beyond the head of the harbor into the South Pacific Ocean. Then it was "there they are" and it was back in the water. The water was rougher here and the thought of being in the open ocean made me colder then the cold ocean water already was doing. Once the dolphins arrived you became focused on these most beautiful sea-going mammals. What an experience!!
We returned to the dock, changed and got back on the bus. We stopped on the top of a mountain at a winery, where many of the group sampled the wines we returned home about 1815 hours to find our evening love note. This one said flight at 0445 so pick up at 0415. Another early, but hopefully successful day. Success at this point being getting to the ice. We will have to wait until tomorrow to see what Mother Nature has in store.
Good night.
Penguin Pete the Polar Man
---
Contact the TEA in the field at .
If you cannot connect through your browser, copy the TEA's e-mail address in the "To:" line of your favorite e-mail package.