6 December, 1999
Monday December 6, 1999
Got up at 0500 hours, took a shower and went to breakfast, second one since I have been on the ice. Our flight for Taylor Valley was scheduled for 0845 hours so I was there at 0745. I was a half-hour earlier then I needed to be.
We got the same safety briefing, I guess they give it every flight. That's great. There were three souls on board: Barb, myself and a refrigeration mechanic who was being flown to Hoare to fix the rocket toilet. It was his first helicopter flight so he got shotgun. In the A-Star helicopter with a normal load everyone has a window, but it can carry as many as five, so I still had a window seat and a fantastic view.
The flight was awesome. We flew out over McMurdo Sound and headed North. The scenery just gets better each time I see it. I think that is because I have time to process more of the beauty now that the initial "shock" of it is over. WOW!
We pasted Daily Island, the Blue Glacier, and the Ferrar Glacier. The pilot, Barry James called our attention to a dark spit of and. He called it Butter Point. He said that they believe this moraine, glacial deposit came from the other side of McMurdo (18 miles) and was given this strange name for the following reason. When the early explorers went into the dry valleys for the first time they had to rely on seals for food. These seals tasted so bad that they set up a very large cache of butter to flavor the seal meat. Hence the name. Butter Point. As we swung west into the Taylor Valley I was now more familiar with the place and could identify various features, the lakes, the mountains and the glacier
We arrived at Lake Hoare field camp at 1000 hours and were greeted by Rae Spain the camp manager. She suggested that we get out tents and sleep kits out of the Jamesway and sent them up. Great, now I hope I remember how. While we were standing there Mike Goosef came by with Ethan. It was at that point I learned a little bit about my mission. Today it is to set up house keeping, you either set it up or sleep outside. Not an option. Tuesday I will be going out on the Canada Glacier with Dr. Thomas Nylen. Wednesday I will be working for Michael, Thursday it looks like I will be spending the day with a NZ hydrologist named Iain Campbell, who is investigating the amount of water in the dry valley soil. His data will be correlated with the "worm herders", the LTER team that studies the nematodes, the primary consumer, here in the dry valley
Rae gave me some general directions as to where the pitch my tent, looks for flat spots. Humm there is a nice one over there, up on a small knoll. Well by the time I reached this knoll I had to be 300 year from the camp. I dropped my drag bag, my backpack, my camera and my parka and let them at the future residence of Penguin Pete the Polar Man and went to the Jamesway to get my tent and sleep kit. I think I ways about 1/4 mile form the Jamesway. Boy I am dumb, nothing but space and I have to act like Mickey the Dunce an set up residence in "Guam'.
Well Rae saw me dragging all my gear and asked me where I was. After finally finding it I pointed it out to her and she suggested a site much closer and flatter then mine. Good idea. I'll move.
I gathered all my gear to the correct spot and took out the tent. Ya right: a bottom, a top, 6 poles and no directions. Think Peter Think. Well, I thought I had made some progress until Ethan came over and offered to help. He said I had it all wrong, not a problem, let's do it right. Well it seem this was Ethan's 4th tent pitching exercise and he had no clue either. A thought, cheat and look at another person's tent that had already been pitched. No way. We can get it. Ya after 20 minutes Ethan ran over and check it out. I had at least started it correctly, but now we know the correct way. We started to set it up and Ethan had to leave for hi ride, the helicopter, would be there in a few minutes
It took me two and a quarter hours to set the tent up, thank goodness there was no serious wind and the temperature is relatively mild. I went in and put down my thinsulate pad, my air mattress, my sleeping bag with liner and all my gear. I laid back and looked outside and WOW!. There in front of my front door, maybe 50 feet away, is about a 90 foot wall of ice, the Canada Glacier. Unreal!. I almost feel asleep, the view, the total silence and the knowledge that I had finally made it to the dry valley to do scientific research. It doesn't get much better then this.
I walked back to the camp and met Rae on the way. She said there was turkey soup on the porch and just to help myself. The rules are you make your own breakfast and lunch, she does dinner.
I had some soup. Thomas was in the hut so I asked him if it was safe to walk out on Lake Hoare and around the South (I guess) edge of the glacier. He said sure. I gathered up my cameras came back to the camp, signed out on the white board (Name, date time out time expected in and for long trips times for check ins a security thing.)
I then started for Lake Hoare. I stopped at the edge and put crampons on my boots and started to walk across the front of this monstrous chunk of blue ice. The glacier is stratified with layers of dirt that it has picked up over item. There are a few rocks that can be seen in parts of the ice waiting to melt enough, by differential heat (dark rocks absorb more energy the white snow, so that they fall to the ground). The temperature is below freezing yet in the parts of the glacier that are exposed to light at the correct angle melting occurs and you can hear serious amounts of running water, behind and under the glacier. This and little streams are what feed Lake Hoare and I believe the other dry valley lakes as well. There are areas where the ice is as clear and blue as the prettiest "baby blue eyes" you have ever seen. It is spectacular. There are other places where debris, dirt, sand, dust are in the calved ice or on the lake. These dark colors cause the differential melting and produces melted portions that are gone and non-melted portions that are sticking up. These projections are as much as five feet tall.
I had set my alarm so that I would have an equal amount of time to return to the camp. I do not want to create any problems, for if you haven't caught on yet I consider myself one of the luckiest men on earth.
I returned to the base about 1600 hours and began to work on this journa and spent some time talking with Rae Spain. She has worked in the Antarctic for 18 years. Wow, what a life.. About 1730 hours, as I was typing, a gentleman about my height , but a little older walked in. If I do not know who it had to be, since people just don't walk in off the street here, I would have sworn if was my old friend Dr. Tony Gow. This was Dr. Eian Campbell, a soil geologist. With a little luck he will allow me to tag along with him on Thursday. Must close now. Have a great day.
Penguin Pete the Polar Man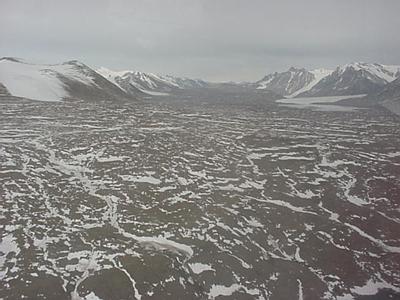 Entering the Taylor Dry Valley. <> Photo by Peter M. Amati, Jr.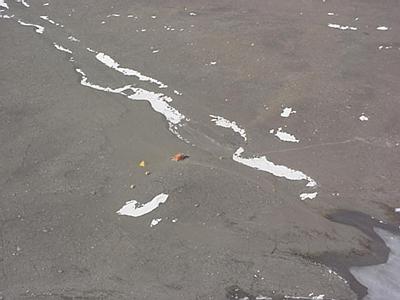 This is the "F-6" research camp located on the south side of the Taylor Valley next to Lake Fryxell from about 700'. <> Photo by Peter M. Amati, Jr.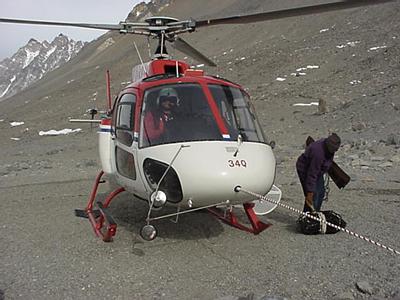 Being deployed from the helicopter. <> Phot by Mike Gooseff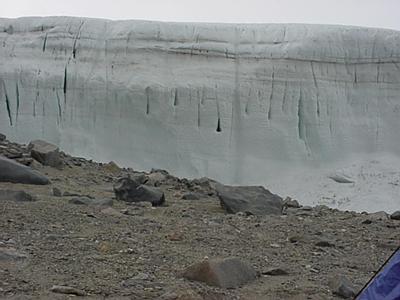 View out of the "front door" of my tent. <> Peter M. Amati, Jr.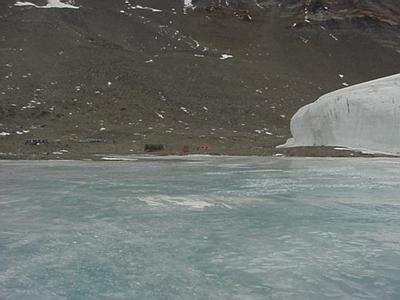 Lake Hoare Field Camp from the surface of Lake Hoare. <> Photo By Peter M. Amati, Jr.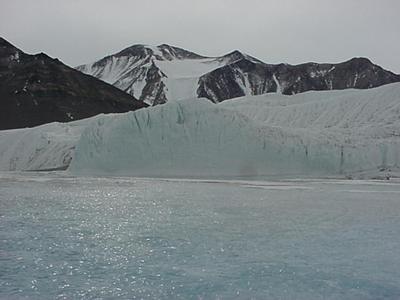 Canada Glacier from the surface of Lake Hoare. <> Photo by Peter M. Amati, Jr.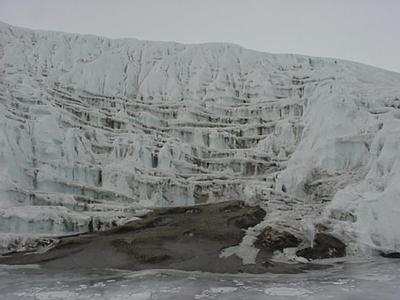 Canada Glacier showing silt layers and dirt discharge. <> Photo by Peter M. Amati, Jr.
---
Contact the TEA in the field at .
If you cannot connect through your browser, copy the TEA's e-mail address in the "To:" line of your favorite e-mail package.