5 December, 1999
Sunday December 5, 1999
I woke up at 0800 hours to the sound of silence in the dorm. The tank gang and many others evidently got enough of a break in the weather to head north. Actually it is a perfect day outside. The weather is clear and I can see the Royal Society Range peaks so I have at least 70 miles visibility. Let's hope it holds for tomorrow so I can get to the dry valley. Once I'm there we can get socked in for a couple of weeks and it would be fine with me.
I have lots to do today. I must pack up all my personal gear and move it to our supply cage. This time I hopefully will get the correct one. I must make arrangements with housing for them not to cancel my room. If you are out of town for more then three days I believe, the policy is to throw you out of your room. I am not staying at the Ritz, but, it is fine, close to the Crary Lab, and besides I really don't want to move. Hopefully they will let me keep it.
The next might be a bit more of a problem. As with housing, the computer people have a policy of two days no action on your account, they cancel it .Why you ask? Me too. But I really don't care why, as long as I can find a way not to get canceled. Gee if that happened (got cancelled) and I was from Czechoslovakia, would that make me a "canceled Czech? Bad joke, but I do need to lighten up. Too much stress, unfortunately mostly self-induced.
Then of course I must put together my bag drag stuff all my ECW gear that I must wear, plus all the extras. Then there are the cameras and computer. They have a large bank of solar panels at Lake Hoare and there should be enough residual power to charge the camera and computer batteries. I hope. Please NOTE I will NOT be able to communicate from the field. I will write journals, during whatever free time I have and when I get back to Mctown type them up and send them out. I guess you can still send me email but I will not be able to read it until I return.
I did some laundry and then went to Sunday brunch where I sat with a bunch of firefighters. They reminded me they had an open house, so I promised I would attend. Most of these firefighters are between 19 and 26 years of age; they could all be my children. I came back to my room to rest and my roommate burst in all excited. He was on his way to the penguin ranch. I can't blame him, but I feel so lousy today I don't think I would go if it were offered to me.
I slept until 1500 hours and then went to the fire department open house. They demonstrated everything from repelling, to get people out of crevasses, to fire fighting, to first aid and everything in between. I was parcticularly interested in the first aid stuff, especially inturbation, placing a breathing tube down someone's trachea. I was offered a ride in the fire truck along with two others and took the offer. One must always carpe diem. One of the women in the truck had to sing at the Chapel of the Snows tonight so the driver offered to drive her there. The congregation inside must have thought they had made divine contact, for this singer showed up in a blaze of horn blowing, lights flashing and sirens a wailing. It was most exciting and fun.
I returned to my dorm to rest a while and then went out for a walk around town. Christmas is starting to show up all over the place in terms of wooden cut outs, Xmas cards and occasional Christmas carols being played as you walk by someone's dorm room. I miss not being able to decorate and sit by my tree. Christmas brings back many happy memories of days gone by.
I returned to my humble abode about 2000 hours and brought my duffel bag to our cage storage area. This time I got the right building; but for 5 minutes kept stumbling in the dark for I could not for the life of me find the light switch. Success! I put my duffel on the shelf, locked the cage and then decided I should go visit my Kiwi Cargo buddies. The last time I visited them I forgot my camera and they were bumming that I hadn't included a picture of them in my journal. I walked about a mile and the shuttle picked me up. The three guys on tonight were Kim Wright, the loadmaster, and two forklift drivers Paul Sutherland ("Sully") and Rodney Tukuafu ("TK"). They were very busy drinking coffee and wanted to know why I was out to the ice runway again. I told them that I wanted to make them stars. They laughed. I think they took the star part seriously for Sully kept asking was the lighting OK. We shook hands, probably for the last time, for by the time I return from the dry valley the ice runway will be closed and Kiwi Cargo will have been transferred somewhere.
I will finish this off now for I must go and get my room in some semblance of order. I will not be posting journals again until I return from the field. Sometime this week, a decision will be made as to when I am to leave the ice. Right now it looks like about 17 December, but it could be later. If it is 17 December I have a good chance of getting home before Xmas, since delays have now been running 4 or 5 days instead of the usual 3. That would be great. I would love to be with Darcy and the kids for the holiday season.
Until I write to you again. Peace and stay well.
Penguin Pete the Polar Man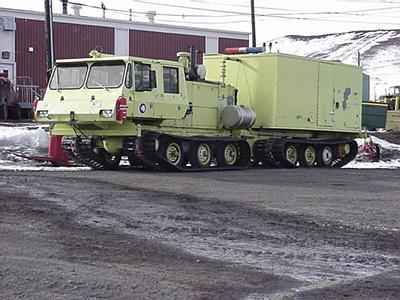 This is one of McMurdo's firetrucks. They are manned by a total crew of 39 mostly young men and women. <> Photo by Peter m. Amati, Jr.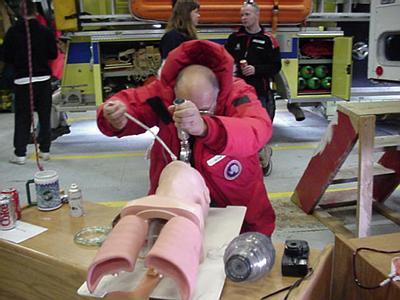 Here I am learning how to insert a breathing tube into the trachea of anatomical Anthony. <> Photo by Peter M. Amati, Jr.

Wooden cut outs of Xmas characters are beginning to dot the town. <> Photo by Peter M. Amati, Jr.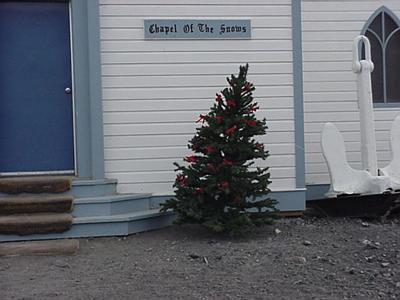 Christmas is starting to show up all over town. Here at the Chapel of the Snows the chaplains have put out their Xmas tree. <> Photo by Peter M. Amati, Jr.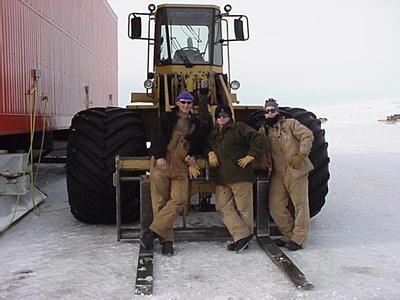 Here is the world famous Kiwi Cargo crew, or at least part of it. Left to right are Paul Sullivan AKA "Sully", Kim Wright, and Nathan Tukuafu AKA "TK". <> Photo by Peter M. Amati, Jr.
---
Contact the TEA in the field at .
If you cannot connect through your browser, copy the TEA's e-mail address in the "To:" line of your favorite e-mail package.