20 July, 1998
Myrtle Brijbasi
TEA/Alaska - 98
Journal Entry 11 - July 20, 1998
Alaska SeaLife Center, Ak
It's Monday morning again, misty and overcast, and somewhat chilly from the rain. Our mission with the river otters continues, and as usual we look forward to yet another interesting day with these curious, unpredictable, and sometimes entertaining animals. Our day's routine was Elisa and Susanne clean the outdoor lab and feed the otters, while Noa and I observe their behavior. Following that, the remaining data entry on observations will be added to existing computer files. Believe it or not, all data entry was brought up to date as of today. Bravo!!!!!! Great job Noa and Elisa.!!!
Everyone eagerly awaits this afternoon with great anticipation. Today is the trial run of the physiology equipment to test oxygen consumption of the river otters. The equipment was first tested inside the building to make sure everything was in place and working accurately before taking it outside and testing it with the otters. I volunteered to inhale and exhale air to determine the sensitivity of the oxygen analyser and to see the graph that will be genertated on the computer screen. Dr. Williams, the physiologist was very pleased with the demonstration, so it was time to move the equipment outside into the outdoor laboratory where the otters were kept, and test it with the otters. All of the appropriate components of the apparatus were placed in one of the kennels, and wired to the treadmill which was in the adjacent kennel.
Dr. Ben-David and Susanne quickly trapped an otter (Harald) with ease into one of the portable dens and brought it into the treadmill area. There they aligned the opening of the portable den to the opening of the transparent compartment of the treadmill, released the otter, and closed the door of the treadmill compartment. The treadmill was turned on, the otter moved in response to the various speeds of the treadmill. The system worked like a charm. No glitches!!!. Another triumph for the day! We were all hoping to repeat the test using another otter, but none of the other otters allowed themselves to be captured for the test. See, I told you they were unpredictable at times and curious at other times. So here ends another productive day of research yielding positive outcomes. Will that trend continue tomorrow? Tune in to find out.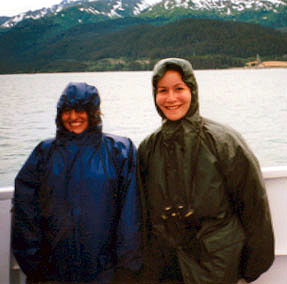 Noa (left) and Elisa (right) decked out in raingear while cruising Resurrection Bay.

Elisa at Exit Glacier.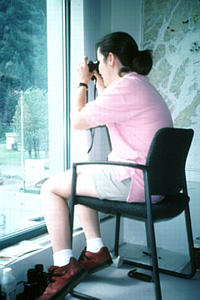 Elisa on the observation deck identifying and recording the behaviors of the otters below.
---
Contact the TEA in the field at .
If you cannot connect through your browser, copy the TEA's e-mail address in the "To:" line of your favorite e-mail package.