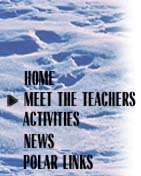 10 July, 2002
What a long day! Living and traveling In New England, it is difficult to truly understand the huge distance between the eastern and western most parts of the United States. Although Vermont is not the easternmost state, it is close, and Nome is on the west coast of Alaska. All together, my travel time was approximately 19 hours, including a few delays along the way.
After flying uneventfully from Burlington, VT to Detroit, my next flight was extended to nearly three hours as we had to circle due to thunderstorms over Minneapolis. After a short layover, I departed for Anchorage, landing 5+ hours later. The views flying into Anchorage are spectacular! Once in the airport, I took the standard tourist picture of myself (check it out below) in front of the stuffed Polar bear just inside the gate. The little boy standing next to me gives you a good perspective of the actual size. This is a world class bear taken in 1972, the last year polar bears could be hunted.
My flight from Anchorage to Nome was "iffy" because of fog in Kotzebue, a stop on the way. The attendant said they would fly out anyway and simply fly over Kotzebue if the weather did not permit a landing. Evidently fog delays are a common occurrence with towns right on the coast. By the time we landed in Kotzebue the skies were sunny and clear, and we left soon after for Nome.
Nome has an interesting history. "Three Lucky Swedes" discovered gold at Anvil Creek in 1898, and a remote coastline soon became Anvil City, a booming town of 10,000 people. When gold was discovered in the sands of the beaches in 1899, thousands of gold hunters poured in from San Francisco and Los Angeles as soon as the steamships could get north through the ice. Although estimates of the population reached as high as 20,000 the official U. S. census recorded the population as 12,488 in 1900. At that time Nome was the largest city in Alaska, home to one-third of Alaska's white population. Nome truly fit the image of a Wild West gold town. Even Wyatt Earp, famous in Wild West history, lived here from 1899-1901 and built the Dexter Saloon. The current population of approximately 3,500 consists of a mix of native people (60%) and whites.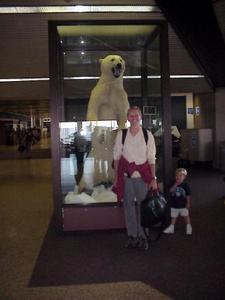 This polar bear stands in the Anchorage airport. It was caught in 1972, the last year it was legal to hunt polar bears.
---
Contact the TEA in the field at .
If you cannot connect through your browser, copy the TEA's e-mail address in the "To:" line of your favorite e-mail package.