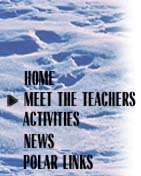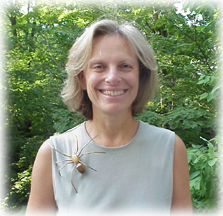 Betty's 2004 Arctic Experience


I will be joining Dr. Jackie Grebmeier, from the University of Tennessee, and her team onthe Canadian icehreaker, Sir Wilfrid Laurier. We will sail from Kodiak, Alaska on July 7, and travel through the Bering Strait and the Chukchi Sea to Barrow, where we will arrive on July 22. The project is a continuation of Dr. Grebmeier's on-going work on benthic (bottom dwelling) organism and sediments. We will collectdata in order to assess the biological productivity of these organisms which are an important food source for bearded seal,walruses, diving ducks, and gray whales.


In my 33 years of teaching, I have taught science to students from grades 7-12. I'm currently teaching biology and serving as co-chair of the science department at Essex High School in Essex Junction, Vermont. Throughout my career, I have been involved professionally in local, state, and national organizations, and I feel my students have benefited. Each time I return from a convention, meeting, or a travel experience, I bring information about the latest developments and research in biology or new labs and activities back to my classroom. I now have a wonderful network of colleagues across the country with whom I can share ideas, activities, and professional support.

One of my goals is to bring science alive for my students and to relate our classroom work to real world issues. Several years ago, with that philosophy in mind, I developed a curriculum for a course I called Science and Society. The course is team-taught by a science and a social studies teacher. Students identify controversial issues related to the impact of science and technology on our society. They do in-depth research, write documented position papers, and take action on their stated positions. It's a thrill to watch students get excited about science when they see its relevance to their everyday lives and they begin to appreciate the complexities of scientific research and interpretation of evidence. Another goal is for all of my students to understand that science is not just for an elite few. Everyone can "do science!" My hope is that, by the end of the year, all of my students will appreciate the nature of science and the wonder of the natural world around them. My parcticipation in the TEA program provides an ideal opportunity to bring real world science directly into my classroom.

In my rare spare time, I enjoy reading, bicycling, and riding my horse. Both my husband and I love to travel. We have been to Mexico and Central America together several times. On my own, I have traveled to the Canary Islands, Europe, Southeast Asia, China, and out to sea on a sailing research vessel. With students, I have traveled to Belize and to Andros Island, Bahamas. In the 80's I worked with colleagues to develop an interdisciplinary biology and art course, which we called Andros Adventure. Over the years, more than 300 students have traveled to Andros with us. Although I will not bring students to the Arctic with me, they will "travel" with me through my journals, my pictures, and the information I will bring back to the classroom.



The Shelf-Basin Initiative (SBI)
Dr. Jackie Grebmeier
Department of Ecology and Evolutionary Biology
University of Tennessee.
I am extremely excited to be a part of the second phase of a three-phase interdisciplinary research project, the Shelf-Basin Initiative (SBI). The ocean shelf is the gentling sloping submerged area just off the coast, and the basin is the deep part of the ocean. Work on the SBI project is focused on the western Arctic Ocean in the Chukchi and Beaufort Seas. On July 13, I will leave for Nome, Alaska to board the USCGC (United States Coast Guard Cutter) Healy, departing Nome on July 15 to travel through Bering Strait and into the Chukchi and Beaufort seas of the Arctic Ocean. We will return to Nome on August 26. While on board I will be on duty twelve hours a day, seven days a week, primarily assisting with biological sampling.
Many models of global climate indicate that global climate change will likely be most prominent in polar regions, and the impact of global warming will be greatest in the Arctic. There is evidence that points to significant terrestrial (land) and marine (ocean) changes that are already occurring. Recent research shows decreased sea ice cover and ice thickness, and increased water and air temperatures. The project goals of the SBI Initiative are to evaluate how projected global changes in temperature, sea ice coverage, and oceanographic processes may influence the exchange of materials between arctic shelves and deep water basins, and what larger impact these changes will have on Arctic communities specifically and human society in general. The scientists involved in the SBI Project hope to understand the physical, biological, geological and chemical aspects of the current system in order to predict the impact of likely global change. The interdisciplinary data gathered will be synthesized in order to develop a realistic ecosystem model in which global change can be tested.
Thirty-five scientists, involved in fourteen different projects, will be on board the Healy for this cruise. I will be working with Dr. Jackie Grebmeier from the Department of Ecology and Evolutionary Biology at the University of Tennessee. Dr. Grebmeier's work is focused on benthic organisms (those that live on the bottom of the ocean). The Chukchi shelf is the most productive area of the Arctic Ocean, and benthic communities on both the Bering and Chukchi shelves support higher-level organisms such as walrus, gray whales, bearded seals, and diving ducks. At several "stations" (where the ship stops and data is collected) throughout the cruise, samples of benthic organisms will be collected and stored for lab analysis of population distribution. Large benthic organisms (crabs and clams for example) will be identified and preserved for carbon and nitrogen isotope analysis. Additionally, core samples of the bottom will be taken at each station and analyzed for a variety of sediment tracers.
For more information about Betty's research:
USCGC Polar Star SBI Mooring Cruise
USCGC Healy Arctic West 2002 web site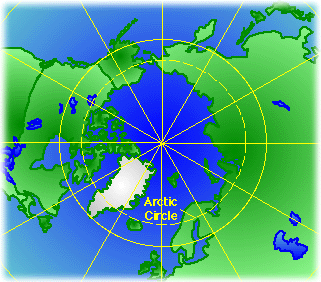 Be sure to check out the images in the journal entries!
July 2004
August 2002
July 2002
April 2002
| | | | | | | |
| --- | --- | --- | --- | --- | --- | --- |
| Su | Mo | Tu | We | Th | Fr | Sa |
| -- | 1 | 2 | 3 | 4 | 5 | 6 |
| 7 | 8 | 9 | 10 | 11 | 12 | 13 |
| 14 | 15 | 16 | 17 | 18 | 19 | 20 |
| 21 | 22 | 23 | 24 | 25 | 26 | 27 |
| 28 | 29 | 30 | -- | -- | -- | -- |
March 2002
| | | | | | | |
| --- | --- | --- | --- | --- | --- | --- |
| Su | Mo | Tu | We | Th | Fr | Sa |
| -- | -- | -- | -- | -- | 1 | 2 |
| 3 | 4 | 5 | 6 | 7 | 8 | 9 |
| 10 | 11 | 12 | 13 | 14 | 15 | 16 |
| 17 | 18 | 19 | 20 | 21 | 22 | 23 |
| 24 | 25 | 26 | 27 | 28 | 29 | 30 |
| 31 | -- | -- | -- | -- | -- | -- |
August 2001
| | | | | | | |
| --- | --- | --- | --- | --- | --- | --- |
| Su | Mo | Tu | We | Th | Fr | Sa |
| -- | -- | -- | 1 | 2 | 3 | 4 |
| 5 | 6 | 7 | 8 | 9 | 10 | 11 |
| 12 | 13 | 14 | 15 | 16 | 17 | 18 |
| 19 | 20 | 21 | 22 | 23 | 24 | 25 |
| 26 | 27 | 28 | 29 | 30 | 31 | -- |
July 2000
| | | | | | | |
| --- | --- | --- | --- | --- | --- | --- |
| Su | Mo | Tu | We | Th | Fr | Sa |
| -- | -- | -- | -- | -- | -- | 1 |
| 2 | 3 | 4 | 5 | 6 | 7 | 8 |
| 9 | 10 | 11 | 12 | 13 | 14 | 15 |
| 16 | 17 | 18 | 19 | 20 | 21 | 22 |
| 23 | 24 | 25 | 26 | 27 | 28 | 29 |
| 30 | 31 | -- | -- | -- | -- | -- |