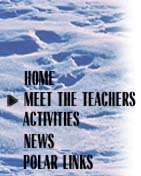 21 July, 2004
We spent the day today packing and loading up all our gear to go by helicopter to Barrow where we unloaded everything and sorted it into three piles to go to the USCGC Healy, the University of Tennessee, and the Russian ship that Ari will be on in two weeks.  Once that was done, I finally had time to talk with Bon van Hardenberg, Chief Scientist for the Laurier cruise.  Bon, a physical oceanographer, is with the Institute of Ocean Sciences (IOS) in Sidney, British Columbia.  He describes his role, when on a cruise, as support scientist, working to support the work of the senior scientist on board.  His own degree work involved numerical models of sea ice, applying the laws of physics to such things as sea ice formations.  In 1995, Bon went on his first Arctic cruise, and then spent a few years doing dissolved oxygen work with an IOS team on the Canadian Coast Guard ship, the Louis St. Laurent.
In 1998, Bon began working with Jackie Grebmeier's group on the summer Sir Wilfrid Laurier cruise.  For each of the 51 CTD casts, Bon's job was to control which scientist collected water, how much they collected, and in what order.  He also collects all the CTD data and insures that it is collected in a quality manner.  In addition, he works closely with the captain to coordinate the science on board with the ship time continually tinkering with the cruise plan as we work through the science stations.  Throughout the cruise, Bon worked pretty much around the clock, with one "hole" of approximately a day and a half.  Following this cruise, Bon will have one week at home before flying to Inuvik where he boards the Nahidik, a shallow draft ship which will cruise the MacKenzie River while scientists on board do CTD work, geology, biology, fisheries and benthic work.  He'll then return home for 10 days and set out one more time on the Laurier.  After that, he'll return home until next summer when the cruises begin again.
Once we got everyone settled, we moved to the NARL (Naval Arctic Research Laboratory) hotel where we moved into comfortable dorm style rooms.  I had the chance to talk with Dora Nelson, TEA teacher from the Carolina Day School in Asheville, NC, and I hope to spend more time with her tomorrow before my evening flight home.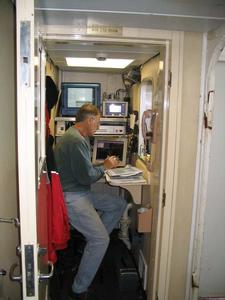 Bon van Hardenberg spent a good deal of his time in the CTD "control room" where he directed all operations of the CTD.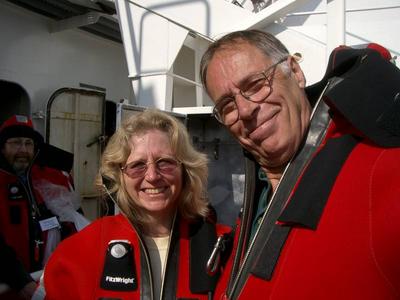 Jackie Grebmeier with Bon van Hardenberg, Chief Scientist on the cruise.  Bon took this picture himself!
---
Contact the TEA in the field at .
If you cannot connect through your browser, copy the TEA's e-mail address in the "To:" line of your favorite e-mail package.