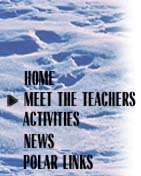 25 July, 2002
Today was a relaxing day for most everyone. Since Monday, several representatives from the media have been on board the ship, and today was the day they were scheduled to leave. All work on deck stops when the helicopters take off or land, and they had to make three separate trips to get everyone back to Barrow. That slowed things down considerably. In addition, we are still in the type of ice that makes it difficult to deploy equipment (see the picture with yesterday's journal). Two sampling procedures (a productivity cast and one zooplankton net) were run and the service team managed two CTD casts. That was all early this morning. It's now 9:15 PM, and we are still steaming back to our station because we drifted during all the helicopter operations. Even though we had time to ourselves it wasn't without interruption. Everyone who was waiting for a parcticular procedure had to continually check back into the lab to see when their procedure might happen. Believe me, scientists need to be flexible!
By the way, there is one arcticle already posted on the web. Jack Williams, weather editor for USA Today was on board and wrote a great arcticle with lots of links. He'll be adding more later. Check out "Cold Science" at www.weather.usatoday.com. You might also keep an eye out for an Associated Press arcticle by Rachel D'Oro, an AP reporter from Anchorage. The team of three men from CBS news in Los Angeles took lots of footage and conducted interviews both on board and in Barrow where they spoke with Alaskan natives and scientists working there. We're not sure yet what they will produce as a result of their three days on board, but we're all looking forward to it.
Because it was such a slow day science-wise (we'll definitely make up for it later on!) I thought I would tell you something about one of the most important parts of the ship, the mess. That's where everyone gathers three times a day for meals. It's also where midnight rations (mid rats) are available for those who miss dinner due to work, and it's where you can find people getting coffee at all hours of the day or night. When the crew is working as hard as it is, it's important to provide healthy, hearty meals. I spoke with Sr. Chief Kaniss, the food service officer, who gave me some interesting facts. While I was talking with him I thought of all the times I have been stressed by simply inviting a few people to dinner. I tried to imagine what it would be like to serve 19,000 meals in a five and a half month patrol! Approximately 125 people on board eat at least three meals/day, and each meal offers a variety of choices. The overall budget for the food for this patrol is $270,000, including $5000 for fresh fruit and vegetables for each 30 day period (I think that means that we might be without fresh fruits and vegetables during the last 10 days of our forty day cruise.) A typical "shopping list" for the patrol includes 500 lbs. of tenderloin, 4000 eggs, 1500 gallons of milk, 2000 ice cream sandwiches, 2500 sugar cones, 3000 waffle cones and 200 gallons of soft serve ice cream. One item is crucial; Sr. Chief Kaniss orders 9000 packages (2.5 ounces each) of coffee! The mess is an important part of the ship. Everyone looks forward to the good food and a chance to relax and socialize just a bit before going back to work.
I am actually caught up on my journals! I'm looking forward to a second good night's sleep. I love lying in my top bunk being lulled to sleep by the rocking (when we hit ice) and rolling (when we are at a station and not moving ahead) of the ship. Even when we hit the ice hard and the ship echoes with a grumbling throughout, I find that it's a relaxing sound. I can look out my porthole and I see nothing but ice and water as far as the eye can see. I love it!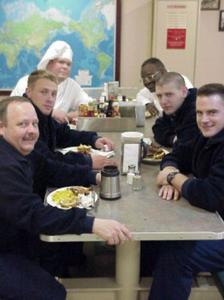 These are the cooks who produce such wonderful meals for the 125 poepls on board the ship. Sr. Chief Kaniss, first on the left, is the food service officer.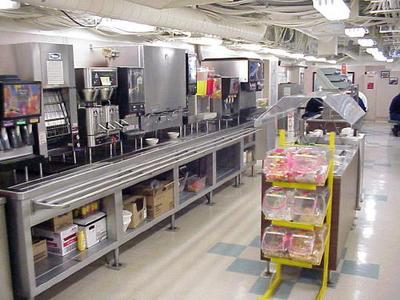 This is where everyone gets drinks, most importantly, coffee. Check out one of my favorite spots, the snack bins!
---
Contact the TEA in the field at .
If you cannot connect through your browser, copy the TEA's e-mail address in the "To:" line of your favorite e-mail package.