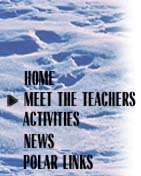 10 August, 2001
We're winding down the orientation, but that doesn't mean we are working any less! We spent a good deal of time today brainstorming our transfer and mentor plans. Although only a few of us (twelve teachers) will actually travel to the Arctic and the Antarctic, we hope to spread the excitement far and wide! What a wonderful focus for interdisciplinary work within our respective schools.
Of the twelve TEA's (Teachers Experiencing Antarctica and the Arctic) six will travel to the Arctic and six will experience Antarctica. Each of us will become a part of a research team and will have the opportunity to take an active role in on-going scientific research. This year's teachers span the grades from K-12 and come from schools across the country. Take a minute and check out the Arctic TEA's in the attached photo. You'll find me second from the left. To my right is Shannon Graham from Washington. To my left are Ron Hochstrasser from Ohio, Dallas Trople from Washington, Kim Hanisch from Nebraska, and April Cheuvront North Carolina.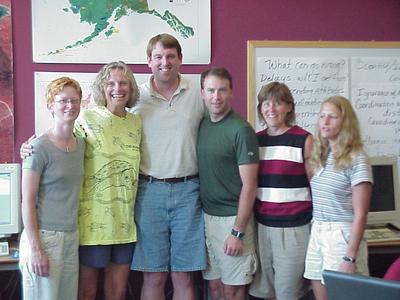 Arctic TEA's, 2001-2002
---
Contact the TEA in the field at .
If you cannot connect through your browser, copy the TEA's e-mail address in the "To:" line of your favorite e-mail package.