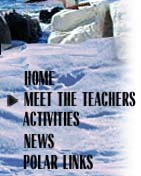 18 November, 2001
We almost made it to McMurdo, Antarctica. We were up at 4AM to catch a 4:45AM shuttle to the airport. We suited up in our ECW gear for the flight over. Had breakfast and took off at about 8AM. Midway through the flight the pilot announced that we had to turn around because the weather at McMurdo would not allow us to land. So we are back at Christchurch, NZ until tomorrow. We have to be back at 7:30am. The winner of yesterday's questions was Kat from Turtle Hook Middle school in Uniondale, NY. She answered 3 of the 4 questions correctly. The New Zealand "all blacks" is their rugby team of which they are very proud. The All Blacks are international champs. A kiwi is also a bird, but here New Zealanders call themselves kiwis. A long black is another name for regular coffee. A short black is expresso. and takeaway is what we call take out.
Question for Today:
What does it mean to "boomerrang?"
---
Contact the TEA in the field at .
If you cannot connect through your browser, copy the TEA's e-mail address in the "To:" line of your favorite e-mail package.