20 November, 2001
HURRAY!
We finally arrived safely at McMurdo in Antarctica.
It was a 7and 1/2 hour flight aboard a Kiwi Cargo plane. In case you don't know about cargo planes, there are no actual seats, just long benches with only straps as back supports. There were two rows facing each other with no leg room. We were given a sack lunch of mystery meat, fruit, cookies, juice and water. Upon our arrival we were given a short briefing, given our room assignments and sent off to dinner. It is now about 11 O'clock pm and it looks like noon. The sun is still out. It is not really that cold today. McMurdo is a busy place with very little ice on the ground. Tomorrow at 9AM is our first major briefing. We are scheduled for ice school on thurs. 11/22 and waste management class can be taken any tues, thurs, or sat. at 8AM. Fun, fun, fun!!
The winner of the last Question of the day was Jackie of harbornet. She correctly identified what a "boomerang" is. Boomerang is what we did the other day. When we fly to Antarctica and cannot land but must fly back to New Zealand, we call that a boomerang.
Question for Today:
We were given a liter bottle and told to drink at least 2 bottles of water a day. Why do you think there is a problem with dehydration in this cold climate?
Email your answers and don't forget to tell me the name of your school in your answer so I can give you and your school credit.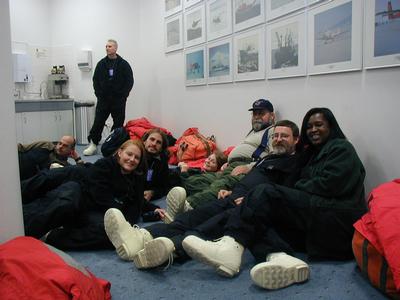 our team waiting to board the plane for Antarctica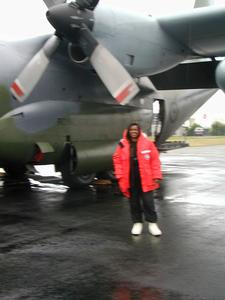 Boarding the plane for Antarctica
---
Contact the TEA in the field at .
If you cannot connect through your browser, copy the TEA's e-mail address in the "To:" line of your favorite e-mail package.