30 October, 2003
It was back to Tent Island today to finish yesterday's tagging project. There weren't nearly as many untagged males there as we had yesterday. Actually, there weren't nearly as many seals of any kind today. The Crabeater Seal was still in residence. I have included a picture of that seal along with one of a Weddell Seal with today's journal so you can compare the two. There were 3 new pups today along with their untagged mothers, as well as 5 males that needed tagging.
I have definitely gained some valuable on the job training in the fine art of seal bagging. My technique has evolved from 'toss the bag, cringe, and hope I miss' to 'toss the bag, cringe and hope I catch it'. I've gotten much more creative and tenacious in my efforts to get that bag over the seal's head so that it can be tagged. It's still somewhat disconcerting when I get to ride along as a 900 lb seal galumphs away with the bag over its head and me holding onto the side ropes as if I could stop it.
It's time to introduce the 4th member of our team, Kelly Proffitt. Kelly will be starting her doctoral program at Montana State University this winter and will be focusing on the mass dynamics of Erebus Bay's Weddell Seal population. She is originally from Baltimore, Maryland, but has spent the last 4 years in Alaska working for a variety of public land management agencies. When asked, "Why study ecology?" here's what she wrote:
Wild places and wild animals intrigue me. I decided I wanted to study Alaskan Brown Bears, as they seemed to embody the characteristics of wilderness. Partway through graduate school I made my move to King Salmon, Alaska, a small bush community of 300 in Southwest Alaska where I took a job studying brown bears. I was hired by the National Park Service to implement a brown bear monitoring and management program along the Brooks River, where 60 to 70 brown bears congregate to fish for salmon each summer. Hard work and long hours paid off, and after completing that project I was hired onto several other brown bear projects and then onto a polar bear project. My work has taken me throughout many remote parts of Alaska and has been an amazing adventure. My goals now are to pursue a PhD in Ecology, focusing on the marine ecology of Erebus Bay, and then to return to Alaska for more adventure.
Kelly is astounded at the relative plushness of our accommodations here on Erebus Bay. On her last job, studying polar bears off the North Slope of Alaska, she lived in an 8' by 8' tent perched on top of a trailer. There was no electricity, no telephone, no internet, and no heat.
Today during dinner we came up with an interesting question. You know how, in the United States, when you dig a deep hole you say you're digging a hole all the way to China. Well, we are wondering where those deep holes you dig in Antarctica might end up. Any answers?
Daily Haiku:
Big seal in the bag
Will he stay in or get out?
Oops, watch the flippers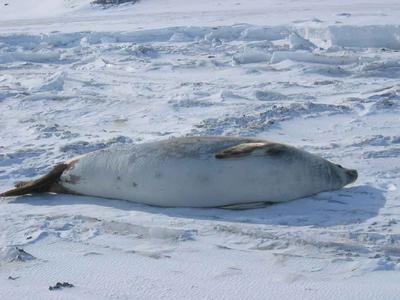 Compare this Crabeater Seal to the Weddell Seal in the next picture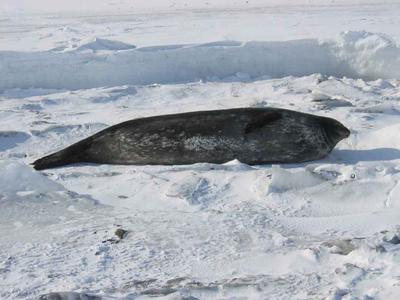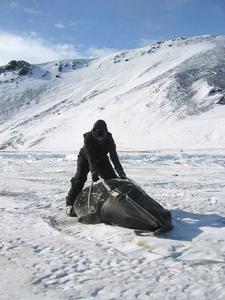 Here I am, perfecting my seal bagging technique.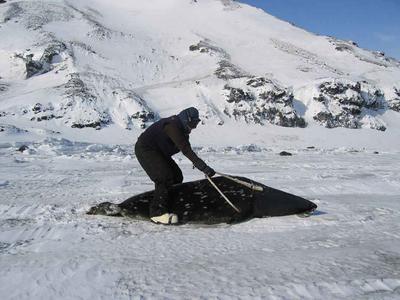 Hang on to that seal!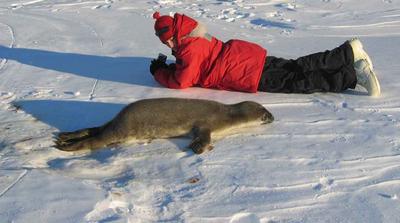 Kelly gets a Weddell Seal pup's view of the world
---
Contact the TEA in the field at .
If you cannot connect through your browser, copy the TEA's e-mail address in the "To:" line of your favorite e-mail package.