31 October, 2003
Halloween in Antarctica. I've never had a Halloween with 24 hours of daylight-usually the concept of Halloween evokes images of early twilight, leaves blowing in the wind, and chilly weather. Well, one out of three isn't too bad, I suppose. It was definitely chilly, but certainly no twilight and absolutely no leaves blowing in the wind. We considered dressing up to go trick-or-treating, but when your only neighbors for many miles are seals, you can only imagine what treats you might get. There was a sighting of a witch, riding her broom across the sastrugi and wearing the appropriate bunny boot footgear. To make the holiday complete I carved a pumpkin, Antarctic field camp style (check out the photo below),
Today we split into two tagging groups. Mark and I headed to Turk's Head and North Base to check for new pups, while Gillian and Kelly went to the southern colonies at Hutton Cliffs and Turtle Rock. Each group tagged 17 new pups, bringing the total for the season to 178. This is still fewer pups than last year, but about the same number as the previous year at this time. While we were at Turk's Head, Mark and I watched a pup receive what may have been one of its first swimming lessons. We arrived just as the soggy pup slithered though a hole in the ice to rest on the surface while its mother poked her head up to call it. The pup did not appear too anxious to jump back in for the next lesson, and circled the hole for many minutes before re-entering the water. We could hear them swimming along an ice crack and watched them pop up through 2 holes many meters away. The pup was tagged, but we could not get close enough to read the numbers to find out how old it was. It's a safe guess to say that it might have been all of 2 weeks old-a pretty young age for learning how to swim in frigid waters!
Darren's mass dynamics project continues to be successful-as of today he has weighed 18 adult females and 26 pups. When you consider that last year he was only able to collect weights of 32 adult females, this is a great improvement. In fact, some seals have been so cooperative and interested in getting on the scale that they return for a second or third time before finally leaving the weighing area! The weights of the pups have ranged from 25.5 kg to 40.5 kg and those of the adult females from 298 kg to 525 kg. It will be interesting to see the differences in weaning weights for both pups and adults over the coming weeks.
Daily Haiku:
Halloween on ice
Trick or treat with the Weddells
Would you like some fish?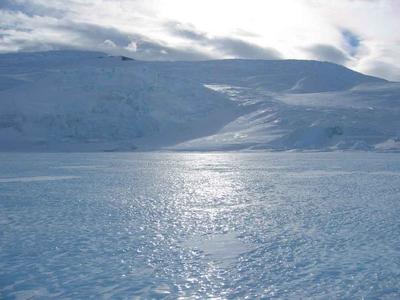 Last night's winds have blown all the new snow off the ice.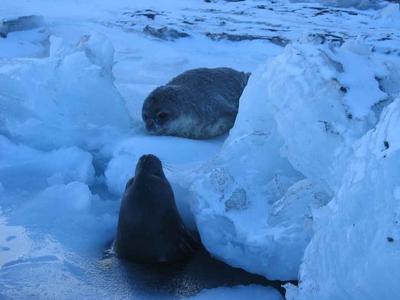 The pup and its mother in between swims.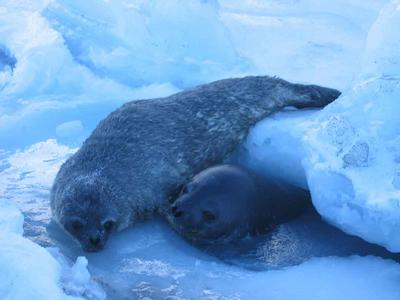 The pup gets ready to dive back in for another lesson.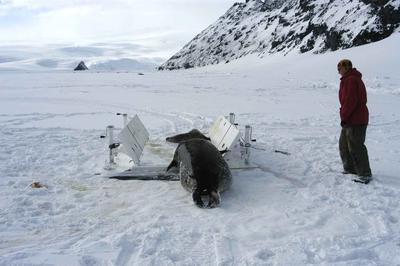 An adult seal approaches the weighing scale.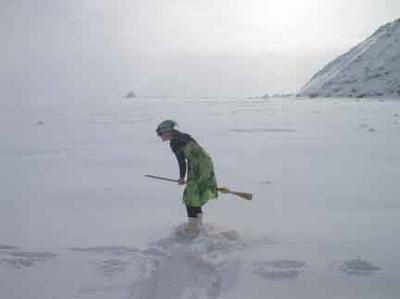 Is this the wicked witch of the south visiting Antarctica?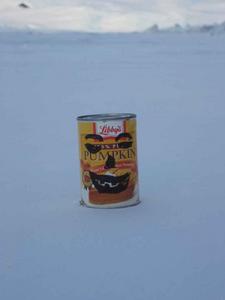 A Halloween pumpkin, Antarctica-style.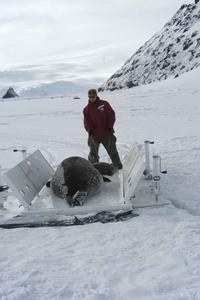 The seal is on the scale and ready to be weighed.
---
Contact the TEA in the field at .
If you cannot connect through your browser, copy the TEA's e-mail address in the "To:" line of your favorite e-mail package.