6 October, 2003
No flights today. Yesterday's flight got within 80 miles of McMurdo before it boomeranged back to Christchurch. Apparently the winds on the runway were too strong for a safe landing. Our group of 6 was reunited again at our hotel in Christchurch.
Today we ventured out on public transit to get a view of the area around Christchurch. We took a bus towards the port of Lyttleton, a few kilometers from Christchurch. We were in search of both a scenic diversion and exercise-- and accomplished both missions. The bus let us out at the base of a gondola, but we stayed true to our mission, and hiked the historic Bridle Trail to the top of the ridge. This steep trail was constructed in the 1850s as the main walking and riding route for settlers coming to Christchurch. They would disembark in Lyttleton and then carry all their possessions over the ridge and into Christchurch. The top of the ridge gave us a great view to the north and south, as well as down to the port. The trail wound down the other side of the ridge and into town where we took the bus back to Christchurch.
Lyttleton's harbor was the point of embarkation for many of the early Antarctic explorers. While in town we read a reproduced newspaper clipping describing Robert Scott's final farewell as he set off in the Terra Nova for his last trip to Antarctica and his ill-fated attempt at reaching the South Pole.
In the evening, we learned that there would be 2 fights southward on Tuesday. The 2 members of our group who had been boomeranged on Sunday were to be on the first flight, while the rest of us would join 136 other travelers on the second flight. We're hoping for good weather and a smooth flight tomorrow!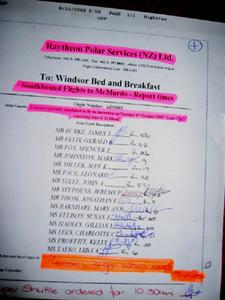 The flightlist is posted!

The view from the Bridle Trail
---
Contact the TEA in the field at .
If you cannot connect through your browser, copy the TEA's e-mail address in the "To:" line of your favorite e-mail package.