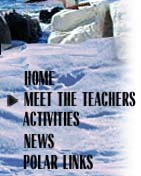 4 October, 2003
Today began with a knock on the door at 3:40 AM. Not your ordinary wake-up call, this was a knock with a cheery exhortation to "wake-up, go back to sleep, the flight's been cancelled". Bad weather at McMurdo, once again. I have been told that it's definitely better to get cancelled outright than to spend the day in a plane that gets 'boomeranged', flying halfway to McMurdo before getting turned around and sent back to Christchurch due to bad weather.
What to do with yet another day in Christchurch? We rented a car and drove north to Kaikoura, a beautiful town about 120 km north of Christchurch on the ocean. One of the attractions Kaikoura has to offer, besides the outrageous scenery with snow-covered mountains rising almost from sea level, is a fur seal colony. A few kilometers south of Kaikoura we encountered our first fur seals, lounging on the rocks at the edge of the sea just near the highway. In the scheme of classification, fur seals are not "true seals". This means that they are able to use their front flippers when they are moving along the ground. The seals were sitting up, leaning on their front flippers and watching us almost as intently as we were watching them. The weather, which had been cloudy with a little rain (and snow up high) cleared as we took a walk above the ocean on the high, grass-covered cliffs. There was fresh snow on the peaks and the contrast between ocean and mountain was quite stunning.
When we returned to the hotel we checked the list for the next day's flight. With the cancellation of the past 2 day's flights it takes a bit of magic to find places for everyone on the next trips. 2 members of our group are scheduled to fly tomorrow, with the rest of us hoping to join them on Monday. So it looks like we'll have one more day to enjoy Christchurch. The name of the game here is patience—eventually all the stars will align and we'll put on those layers of clothes, board the plane, and end up at McMurdo!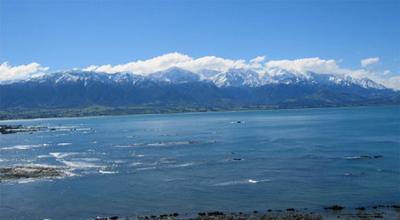 Kaikoura View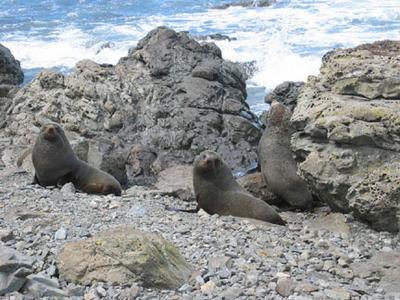 Fur Seal Colony
---
Contact the TEA in the field at .
If you cannot connect through your browser, copy the TEA's e-mail address in the "To:" line of your favorite e-mail package.