9 December, 2003
As of today, Science Project B-009 is officially 'off the ice'. Our camp has been moved back to town and we are now enjoying the luxuries of life in McMurdo. There's something to be said for hot running water, heated buildings, and fresh salads with dinner, but I already miss the outstanding ambience of our camp at Big Razorback.
Disassembling camp was much like assembling it, only in reverse and with the air temperature about 30F warmer. We packed up the leftover food and put away all the kitchen paraphernalia. Science equipment was boxed, sleeping bags were stuffed back into their stuff sacks. We packed our clothes and personal supplies back into our orange bags. The diesel and propane heaters were turned off. The phone was disconnected. The electric lines between the huts were taken down. It took about an hour to secure everything for the move.
The huts were towed with a large tracked vehicle called a Challenger. Each hut was dragged into position and then all were hooked together like an orange wagon train for the ride back to town. Once they are in town we will pull everything out and organize the equipment before putting it into storage until next season. The huts will be stored for the rest of the year. There's been talk of doing a little refurbishing of some of the older buildings since ours are some of the oldest fish huts in use.
We will spend tomorrow putting away the equipment and then will have a couple of days before our flight to Christchurch on Saturday. We are planning at least one more trip out to Big Razorback and beyond to check on 'our' seals. There are also a few more excursions close to town that I haven't had time to do. These last few days will be busy ones as we all try to soak up enough of that 24-hour daylight to last a long while.
Daily Haiku:
Moving back to town
Orange huts across the ice
Goodbye to our seals

Here's what we were good at eating; this box was filled with chocolate bars--and refilled--during the field season.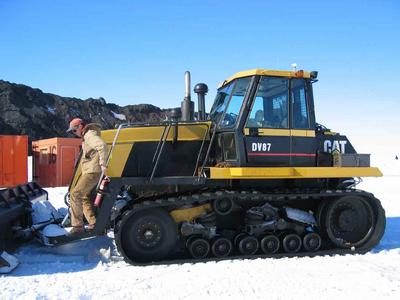 Steve Zellerhof and the Challenger getting ready to move the huts.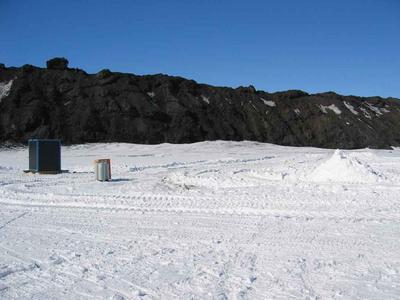 All that remained after the huts were moved was our outhouse and propane tanks. These were towed back to town by a crew in a Pisten Bully.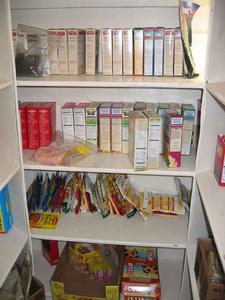 While we did a good job eating up our frozen food and canned goods, it seems we totally miscalculated how many boxes of pastaroni and we would eat!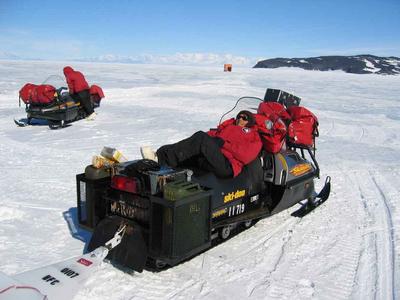 Our snowmobiles provided a great place to take a break and watch as the huts were moved.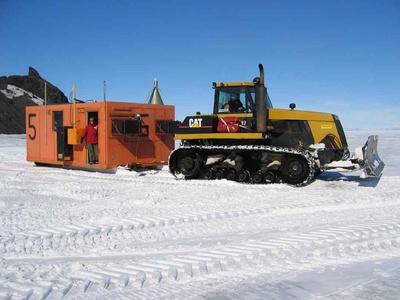 Steve pulls the hut into position while Darren goes along for the ride.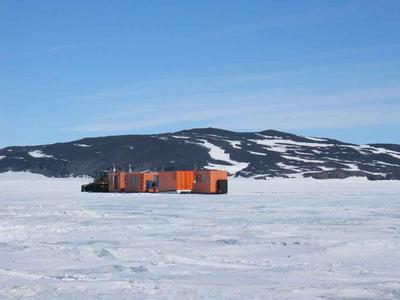 The wagon train is ready to head out to McMurdo.
---
Contact the TEA in the field at .
If you cannot connect through your browser, copy the TEA's e-mail address in the "To:" line of your favorite e-mail package.