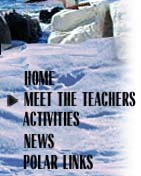 30 September, 2003
My bags are packed and I've got a few hours before my plane leaves from Aspen. I'll be flying from Aspen to Denver, Denver to Los Angeles, Los Angeles to Aukland, NZ, and then Aukland to Christchurch, NZ. In Christchurch we'll have a day to pick up all our cold weather gear and then fly to McMurdo. I'm hoping that the weather will cooperate through all of this, although I'm prepared for what may be a few days stay in Christchurch as we await favorable flying conditions.
It's hard to believe that I'm just about on my way. I've managed to cross off almost all of the items on my lengthy 'to do' lists. I have one small suitcase to bring to Antarctica, as well as a daypack filled to the brim with electronic equipment (laptop, camera, digital camera, digital video camera, walkman, and all the associated parts and pieces).
I'm leaving Colorado at what is, perhaps, the most polychromatic time of the year-peak fall colors. The mountains and valleys are blanketed with shades of yellow, red, and a little green. The colors will remain in my mind as a vivid contrast to what I'll be seeing next week-snow, ice, and (I hope) blue skies. The other vivid contrast to keep in mind is my clothing. I'm going from t-shirts, shorts and flip flops to a down parka, fleece pants, and insulated boots. Certainly a definitive change in seasons!
Stay tuned for my journals from Antarctica as I wander amongst the Weddell Seals.
---
Contact the TEA in the field at .
If you cannot connect through your browser, copy the TEA's e-mail address in the "To:" line of your favorite e-mail package.