3 October, 2003
Our group arrived in Christchurch yesterday, just a bit jet-lagged and time- confused after spending so many hours in transit. I've found the best way to figure out the time in Colorado is to add 6 hours to New Zealand time—and take away one full day to account for having crossed the international time line. We checked into our hotel and had the rest of the day to see the sites of Christchurch and try to stay awake so that we could re-set our internal clocks with a good night's sleep.
Today we reported to the CDC (clothing distribution center) to get our ECW (extreme cold weather) gear. After a short orientation the fashion show began, with the men in their room and the women in ours. We tried on all the clothing—it is important that everything fits. Shirts with sleeves that were too short were exchanged for ones that didn't leave the last 5 cm of wrist exposed and boots that were 2 sizes too big were exchanged for those of a more appropriate size. Gloves with tightly cramped fingers or ones that were way too big and clumsy were traded in for some that were 'just right'.
The name of the game in the clothing department is entrapment—capturing air within and between the layers of clothing to provide a nice layer of insulation. In reality, it isn't the clothes that are keeping you warm—it's the air layers that they trap that impede the flow of cold air in from the outside or the loss of warm air from within. Here's what we were given to aid us in trapping that warm layer of air:
1 pr. midweight long underwear tops and bottoms
1 pr. Heavyweight long underwear tops and bottoms
1 fleece jacket
1 pr. Fleece pants
1 pr. Nylon windpants
1 down parka with a hood (bright red)
1 nylon wind parka (also bright red)
1 pr. Lightweight work pants (for those balmy days)
6 pr. Wool socks
1 pr. Of white 'bunny boots'
assorted hats and gloves
1 pr. Goggles
1 pr. Sunglasses
1 water bottle.
We'll wear a good portion of this clothing during our flight from Christchurch to McMurdo. Right now we're scheduled to fly out tomorrow (the 4th). Yesterday's flight was cancelled due to bad weather conditions at McMurdo, so we're hoping that tomorrow's will go. We are scheduled for a shuttle to the airport at 4:45 AM, so must head off to bed early to be ready to go.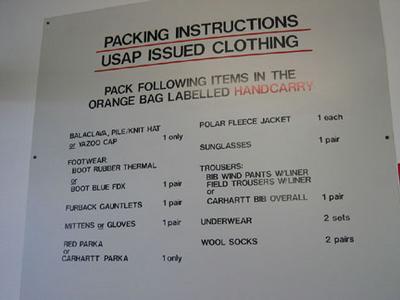 Carry On Gear List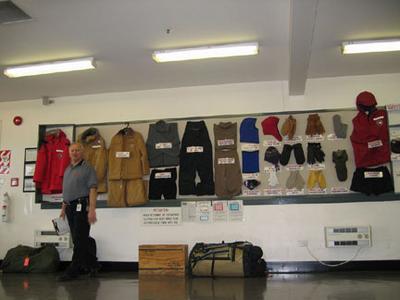 Clothing Orientation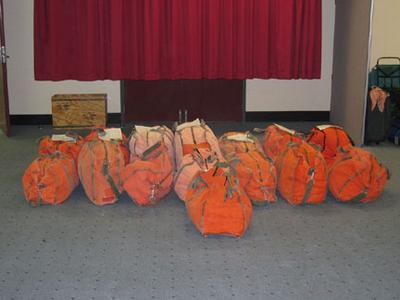 Orange ECW gear bags
---
Contact the TEA in the field at .
If you cannot connect through your browser, copy the TEA's e-mail address in the "To:" line of your favorite e-mail package.