19 April, 2003
First Glimpse of Kotzebue
Today in Kotzebue

The 3rd plane I rode in the pervious 12 hours touched down in Kotzebue, Alaska to a balmy 19 degree temperature. I saw the smiling face of Lisa, my PI (Primary Researcher) waiting for me. Lisa hopes this warm spell will evaporate soon, as our work will be easier on solid ice and snow
What science is happening?

Today was a day to check in and regroup. Lisa and Melinda have just returned from ice camp near Barrow, the northern most point in the United States. We talked about the sampling that needs to get done this week and made some basic outlines of a schedule. Then it was off to bed early, even though it was bright daylight until after 11:00 pm.
Classroom Connections You are a detective, here are the facts:

4-19-03 The sun rose at 4:30 am. and will set at 11:00p.m.
The first day of winter is December 21.
The first day of Spring is March 21.
The first day of summer is June 21st.
The first day of fall is September 22.
1.) Can you tell me the OTHER date this year that the sun will rise and set at these exact same times?
2.) What do you predict will be the time the sun rises and sets when I am here in July?

Reflections
As I sat in the plane bound for Alaska and peered out of my window at the brown earth marked with lines of snow next to the roads like an icy spider's web and see the literally thousands of lakes, many still iced over on the endless tundra, I was fascinated. As I got closer to Kotzebue, and saw nothing but titanic snow covered peaks punctuating the clouds, I had to ask myself what type of alien world am I entering? .

Links

Learn more about our project here
View curriculum for this project, "Ask a Scientist" and learn about other Arctic Real Time research at Arctic Alive
City of Kotzebue Webpage
Listen to the local radio station KOTZ live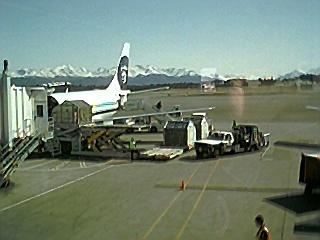 The plane from Ankorage to Kotzebue is 1/2 cargo, 1/2 half passengers. You can see the three cargo boxes being loaded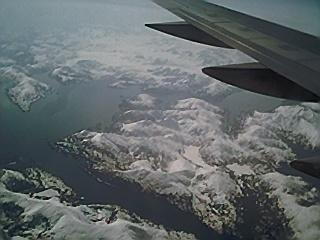 The view of the snow covered mountains from my plane is stunning.
---
Contact the TEA in the field at .
If you cannot connect through your browser, copy the TEA's e-mail address in the "To:" line of your favorite e-mail package.