10 July, 2003
Rain, Rain, Go Away!
Today in Kotzebue
Rain! Grey, cold and windy today; we have decided to only spend ˝ a day on the water today and the other half in the lab. I wore a long underwear layer, regular clothes a layer of fleece and rain gear over it. I was glad I had every piece out on the boat. That Arctic wind on a choppy sea plus the rain can really bite into you. I think the universal drink when we got in was hot tea.

What Science Is Happening?
Despite the rain, we still have work to do. We sampled 10 water stations, with the same tests we have been using. This is the end of our water sampling. We will sample mud and benthic life forms next. Then it was back to the lab to clean up the gear and filter. Now the bottles of plankton will need to go back to the lab at ECU for some poor undergrad to count, while the filters from the water will go back for chlorophyll testing. We have changed the sampling regime to one bottle from the surface and one at depth, instead of 2 each. So processing goes a lot faster.


Classroom Connections:
Last night I woke up at about 2:00 a.m. and went down stairs. I saw something I haven't seen since I've been here, dusk. Then it occurred to me, tonight will be the first sunset here in a month. To be in the Arctic Circle the requirement is to have 24hrs light for at least one day of the year. Since Kotzebue is in the low Arctic, we have about one month totally light and one month totally, dark in the winter. If we were at the North Pole, we would have only 1 "day" per year. That is the day would be light for 6 months and the night would be dark for 6 months.
It made me consider where I live in Aurora, IL. On the longest day of summer the sun usually sets at 9:30 p.m. On the winter solstice (the shortest day of winter), the sun usually sets around 4:30 p.m.

So that got me thinking… (You don't like where this is going, do you?)
1.) How many minutes less sun do we get in Illinois every day from summer solstice (the longest day) to winter solstice?
As compared to:
2.) How many minutes less sun does Kotzebue get per day, until winter solstice?
And if I know that…I will be able to determine…
3.) What time will the sun set in Illinois and Kotzebue on July 30th, September 30th, and October 30th.
Things to remember:
Summer solstice is June 21st, but that date is only good for Illinois. July 10th for Kotzebue because that is the first day the sun sets.
Consequently, use December 21st for winter solstice for Illinois but in Kotzebue the sun set around December 10th. You have less days of sun in the Arctic
Also, adjust for daylight savings time in Illinois. After daylight savings time, there is a difference of 4 hours between sunset in June and sunset in December.
Email me if you think you have it. I will give you a hint tomorrow. Good Luck!

Reflections

Amazingly, one of our most useful workers isn't on the payroll and his name won't be on any of the official papers. That's probably because he's 12 years old. His name is Gerald and he is the grandson of our captain. He comes along everyday, pushes off the boat from shore (there are no docks), drops and pulls up the anchor (by hand) every time we stop, sits in the bow (front) to warn Grandpa of any fishing nets, and shleps gear. In addition to all that, Gerald takes it upon himself to help us. He is better at setting up the Neskin Bottle than I am, but he is very patient with me. He knows the terms for all the equipment and is always ready and will to help. Then when we are done, he yanks up the anchor and we go again. In addition to helping Grandpa, Gerald is a pretty multi-talented kid. He came in 1st in his age category in the race on the fourth of July, beating most adults, he has won several awards wrestling, but his favorite thing to do is race dog sleds. He was too young for a local competition a few years back (he was 10 and contestants needed to be 12) and was able to get a waiver to compete; he came in second. Coming in second just isn't good enough for Gerald, so he worked and trained until a 1st place trophy and enough money to buy a new snow machine was handed to him last season. Gerald doesn't know where his path will lead him, there is talk of the junior Ididarod (famous, long, grueling sled dog race). For my part, I think the adult Ididarod drivers should be glad he doesn't get a waiver to join them!

Links

Learn more about our project here
View curriculum for this project, "Ask a Scientist" and learn about other Arctic Real Time research at Arctic Alive
City of Kotzebue Webpage
Listen to the local radio station KOTZ live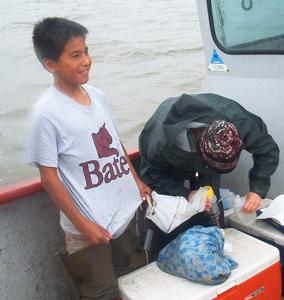 1a Gerald wouldn't normally be dressed for work in only a T-shirt but if you could see the whole picture you would see......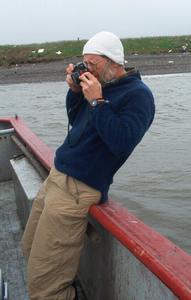 2. ...so that Will could take his picture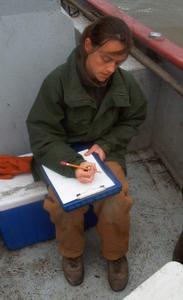 3. Melinda taking notes. Field notes are very important. The depths and other things are recorded at that time. When the scientists are trying to draw conclusions, the only thing they have left are the samples and the field notes, so both must be accurate. For example, if the scientists wanted to draw a conclusion about why the salinity of the water is low (not very much salt), would it help them to know that it was raining?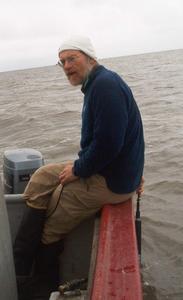 2. Will holding the CTD in the water so it can read the temperature, water depth and salinity.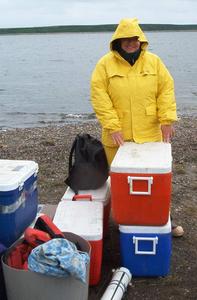 1. Not only does it take a lot of layers of clothes, but it takes a lot of gear to prepare for a day at sea.
---
Contact the TEA in the field at .
If you cannot connect through your browser, copy the TEA's e-mail address in the "To:" line of your favorite e-mail package.