15 July, 2003
Trip to up the Noatak River
Today in Kotzebue
The weather is Arctic cold. It alternates with short stretches of sun and long stretches of rain and a bit of sleet. I am amazed at how quickly the weather here changes. It is some where in the low 30's but on the Ocean, with the strong wind, it feels much cooler.
What Science Is Happening?

THE MIGHTY CLAM HUNTERS.

They arm themselves with bucket, sieves and shovels.
THE MIGHTY CLAM HUNTERS
Traditional Ecological knowledge tells of clams on the Noatak River
THE MIGHTY CLAM HUNTERS
One man sent his kids to dive for them.
Another ones mother used to know where;
the science teacher's children know of clams on the Noatak.
THE MIGHTY CLAM HUNTERS
Steve and Amie Beach comb,
Kate in waders, Will in a wetsuit.
THOSE MIGHTY CLAM HUNTERS
They brave wind and sleet and rain,
the postal workers of science!
THE MIGHTY CLAM HUNTERS
Traveling back home through the squall.
THE MIGHTY CLAM HUNTERS
Eagerly, Lisa meets us,
what did you get?
A moose hoof, an Eagle feather, a fox jaw and rocks
ROCKS?
Yes, SHINEY rocks!

But what about the clams???
Nope, not a clam, not a one.
OH, THOSE MIGHTY CLAM HUNTERS

THEY GOT SKUNKED!!
Classroom Connections:
Have you solved the last two days problems? Have you heard of permafrost? No matter how warm the weather gets in summer, the ground a few feet down NEVER unfreezes. So people can't dig foundations for their houses. Foundations are deep enough to keep your house from moving if the ground shifts. These stilts can be adjusted as the ground moves to keep the houses level.
The poles around buildings solve the same problem. For buildings that have a slab of cement on the bottom, it is attached to these poles, called heat dissipaters. They take the heat from the floor inside and spread it out, so it doesn't melt the permafrost and shift the building. So, were you close?
Links

Learn more about our project here
View curriculum for this project, "Ask a Scientist" and learn about other Arctic Real Time research at Arctic Alive
City of Kotzebue Webpage
Listen to the local radio station KOTZ live

Max, Kate and Gerald on the great clam hunt.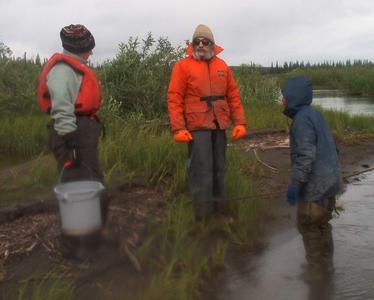 Dr. Will Ambrose braving the the icy waters of the Noatak river in our fruitless search for clams.

We saw many carabou tracks (like these) and moose tracks (not the ice cream). Dr. Jewett found a moose hoof that I'm bringing home.
---
Contact the TEA in the field at .
If you cannot connect through your browser, copy the TEA's e-mail address in the "To:" line of your favorite e-mail package.