17 February, 2003
Such a beautiful day today! Even though the temperature was below 0, the moisture-free air felt warm with the bright sun.
Back on Aurora pond after a year brings good memories. Aurora pond is one of Dr. Jeffries' lake ice observatories and a practice site for teachers and students. A few home school students pretty much run this observatory. In fact, two of them set up their own experiment on ice growth for their science fair project! They won first place! The judges were impressed to see a scientist involved with this experiment.
As explained yesterday, the reason for visiting frozen lakes is to collect measurements on snow temperatures (see #1), snow depth (see #2), ice thickness (picture not shown), and collect snow samples (see #3 - 5).
Don't forget to check Marge's journal.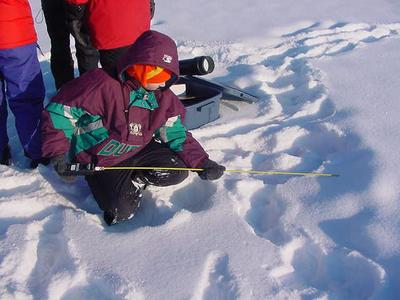 1. Surface temperature

2. Snow depth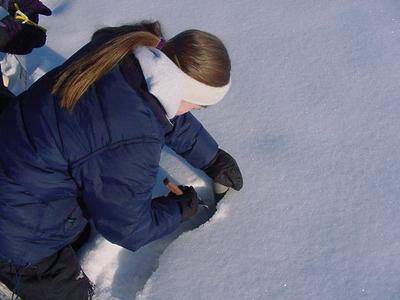 3. Snow sample collected with snow tube and spatula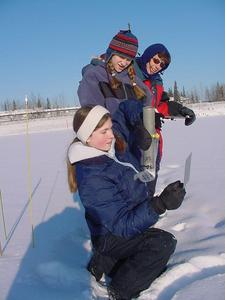 4. Snow sample transferred to plastic bag

5. Mass will be measured from this snow sample. In order to calculate snow density, we need mass and volume.
---
Contact the TEA in the field at .
If you cannot connect through your browser, copy the TEA's e-mail address in the "To:" line of your favorite e-mail package.