31 March, 2002
Weather: Sunny
High 22
Low -8
What Did I Do On My Spring Vacation?
Last night, I spent some time relaxing at the Chena Hot Springs, an hour west of Fairbanks. While soaking in the 25-meter natural pool, my damp hair froze when the weather suddenly dropped from 0 to -8 F. The hardest part was getting out of the water but it was worth the soak and the view of the Aurora. Arriving late last night, I decided to spend the day catching up with data work at the Nordic House, "home."
Data Calculations
Recall your temperature gradient answers from March 30th:
-10.27 C/m
-43.40 C/m
-29.64 C/m


Gigantic Sale! See below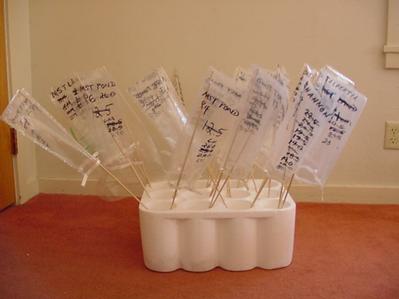 Martinís homemade drying apparatus, (name and patent pending), is now on sale for a mere $7.99 a piece or two for $12.99. This multipurpose device has a lifetime warranty and has been voted as number one cost-efficient, man-made scientific equipment in both Polar Regions. To place an order, please call 1-800-LAKEICE. Hurry! Sale ends April 1st. (Sampling bags are not included.) __________________________________________________ Do You Yahoo!? Yahoo! Greetings - send holiday greetings for Easter, Passover http://greetings.yahoo.com/
---
Contact the TEA in the field at .
If you cannot connect through your browser, copy the TEA's e-mail address in the "To:" line of your favorite e-mail package.