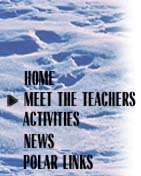 12 April, 2002
Weather: Sunny
High 25
Low 9
The video conference with two of my classes this morning went really well. We talked about Poker Flat, purpose of lake ice research, and equipment used to take measurements for heat flow calculations. The next video conference will take place on April 24th, just a few days before the end of my field placement.
Data Collection Procedures - Review
For every pond we visit, we bring out the sled with equipment to the pond. First, we take out snow probes and gently stake them approximately 2 feet from markers at every 5 meters along the transect. On each end of the transect (0 meter & 100 meter), we put a probe on the surface of the snow, in the shade. After returning to the sled, we get our readers and data book. For surface temperature at the 0 meter marker, we insert the reader into the snow probe., Along the transect, we do the same procedures for snow depth and base temperatures. At the 100-meter marker, we take surface temperature again. After collecting snow probes and putting them away, we take out the snow tube, spatula, plastic bags, and one long probe. We go to three designated areas to collect snow samples. Snow depth measurement is taken and recorded on the plastic bag. The snow tube is placed next to the long probe, secured with a spatula, and snow is poured into a plastic bag. We return to our sled, fasten equipment, and head back to the vehicle for the next pond.
---
Contact the TEA in the field at .
If you cannot connect through your browser, copy the TEA's e-mail address in the "To:" line of your favorite e-mail package.