5 November, 1999
Christchurch New Zealand Friday
Deployment Day 5
"We gotta get outta this place....." Eric Burden and the Animals
2:30 a.m. (this is not a typo!) We arrived at the Clothing Distribution Center (CDC) and dressed in our Extreme Cold Weather (ECW) gear. Does this sound familiar?
5:15 a.m. We were told that we were on a weather delay and to report back at 11:00 a.m. I walked over to a cafe with Mark (my teammate) and a couple of other fellows for coffee. It's fun to sit and talk to people. We talked about growing up Catholic (all of us had) and our current opinions about the Church (everyone has an opinion!). We chatted for over an hour and then went to the computer center to check our email. I had many messages waiting so I was busy answering mail until almost 9:00 a.m. I returned to the Antarctic Terminal to find sleeping bodies scattered everywhere! They were on the floor and on the seats! They were curled into little balls and stretched out like cats! Some covered their heads with hats or excess ECW gear! I read A Lesson Before Dying for awhile and tried to sleep. Couldn't sleep so I walked around and talked to some more south-bound folk. I met some Kiwi Air Force pilots. A couple of them were travelling to McMurdo for training. They are learning how to land a plane on the ice. The others were going to operate the helicopters that will take us to the Dry Valleys on days when we work in the field at Lake Bonney. They were very kind and tolerant of my questions and my inability to understand their accents! I was fortunate to make the acquaintance of Father Coleman, who is going to minister to the people at McMurdo Station. He has been to Antarctic 15 times already! Father Coleman is from New Zealand. I feel like I have made so many friends here!
11:00 a.m. "We regret to inform you that your flight has been cancelled." Initially, the flight was delayed because the weather in Christchurch was bad. As the weather here improved, the conditions at McMurdo deteriorated. Until tomorrow, it's back to the Windsor for us!
Answer to yesterday's question: To converge means to come together. The Antarctic Convergence is an area where the colder, Southern Ocean that surrounds the Antarctic continent meets the warmer waters of the Pacific, Indian, and Atlantic Oceans. The location of the Convergence changes from year to year. It may seem that the seas would get rougher here but the only indication that you have reached the Convergence, is a change in water temperature!
Today's Question: Is there dirt (soil) in Antarctica?
Deployment Day 6 occurs in less than 24 hours. Will we go? Will we stay? Nobody knows!
Sharon
JUST FOR KIDS!!!!! Hello, again from Christchurch! You guessed it! Mother Nature isn't being very nice to us! We arrived at the airport very early in the morning today. You were still snuggled in your beds! We waited for 8 hours! At 11:00 a.m. they cancelled our ice flight. We will try again tomorrow! While I was waiting, I met some very interesting people. I had coffee with a fellow who will be inspecting equipment that knows when an earthquake has happened! I also met a Catholic priest who is going to Antarctica! His name is Father Coleman. He is from New Zealand and has been to Antarctic 15 times!
Answer to yesterday's question: When things converge, they come together. The Antarctic Convergence is a place in the ocean. The Southern Ocean surrounds Antarctica. This ocean is very cold. The Pacific Ocean, the Indian Ocean, and the Atlantic Ocean are much warmer. The Antarctic Convergence can be found where the Southern Ocean meets the Pacific, Indian, and Atlantic Oceans! You know you have crossed the Convergence when the water temperature gets very cold!
Today's Question: Is there dirt (soil) in Antarctica?
Sharon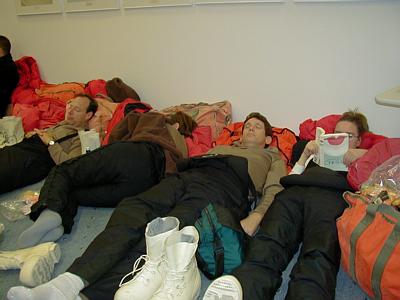 Steve, Maite, and Mark catch a few zzzzz's. Julie reads about geisha's. <>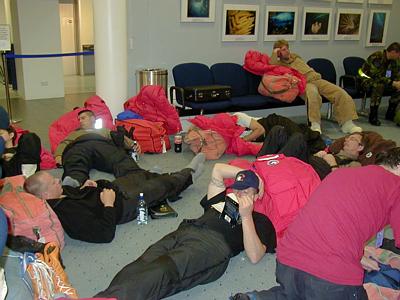 2:30 a.m. Methods for <> waiting for an ice flight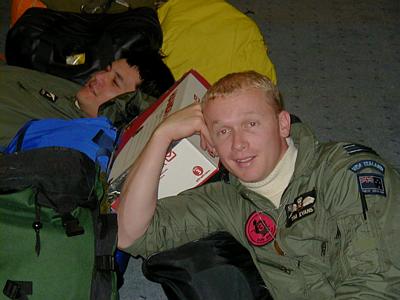 Two New Zealand Air Force pilots relax while we wait the call to board our plane <>
---
Contact the TEA in the field at .
If you cannot connect through your browser, copy the TEA's e-mail address in the "To:" line of your favorite e-mail package.